A visit to ESB Science Blast 2020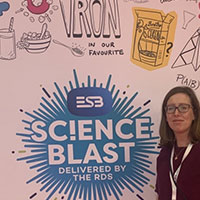 POI went along to Science Blast Dublin this year to see what all the fuss was about! ESB Science Blast, delivered by the RDS, is a non-competitive programme for primary school classes from 3rd to 6th class, that invites children to investigate the science behind a simple question that interests and excites them. Examples of this year's projects included: 'Can you taste the difference between branded and generic foods when blindfolded?' (6th Class, Scoil Chronain Naofa, Dromakeenan), 'How do you win a game of rock, paper, scissors?' (6th Class, St Patrick's Senior School, Skerries), and 'Do tall people run faster?' (6th Class, Presentation National School).
POI's Communication & Public Engagement Manager, Dr. Fiona Lanigan, was invited to be on the judging panel for ESB Science Blast this year. She was highly impressed by the scientific thinking and communication skills of the participating classes, enjoyed blind tasting cornflakes, and was thoroughly schooled in the use of game theory to tackle a game of rock, paper, scissors!
The goal of the programme is to ignite children's innate curiosity about the world around them, and promote curiosity, collaboration, creativity and critical thinking in children at primary school age to enable them to better respond to the challenges of the future. More than 12,000 children from 500 schools around the country participated in the Dublin ESB Science Blast 2020 event in the RDS in March 2020. More details can be found at www.esbscienceblast.com.
POI attend Irish Association of Cancer Research Annual Meeting
Following our POI team meeting on the 25th February, many of the team remained in Galway for the Irish Association of Cancer Research (IACR) Annual Meeting, which has become a highlight in the calendars of cancer researchers around Ireland and Irish researchers further afield.
This year, the conference ran parallel sessions tailored for biomedical researchers and nursing and allied health professionals, to build bridges between these research communities and encourage more interdisciplinary research and collaboration.
The first day kicked off with the IACR/EACR Early Career Researcher Symposium and Workshop, which aimed to support early-career researchers in areas such as career planning, grant-writing, mobility, communication, and embedding public and patient involvement in their research. The POI team manned an information stand during this session, to engage particularly with early-stage researchers and inform them about POI research and career opportunities.
The subsequent days were packed full of fantastic speakers from Ireland and worldwide, interspersed with networking sessions for old friends and colleagues to catch up. One of the highlights was the presentation of the IACR Award for Outstanding Contribution to Cancer Medicine and Research, which was presented to Prof. Joe Duffy, a stalwart of the cancer research scene in Ireland over the past 40 years.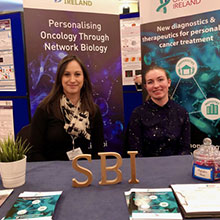 POI and CÚRAM partner for Science on Screen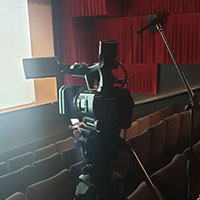 POI has partnered with CÚRAM, the SFI Research Centre for Medical Devices at NUI Galway and Galway Film Centre, in this year's Science on Screen programme, which will commission a short scientific documentary focused on science and cancer research. The Information Day for Filmmakers took place on 26th February 2020 in Galway, where POI researchers and patient advocates shared their stories. The original timeline for the documentary has now been pushed back due to the COVID crisis, and is planned for release in mid-late 2021.
Science on Screen began in 2016, and aims to facilitate, promote and increase the inclusion of science, technology, engineering and maths (STEM) content in Irish film and TV production, and to explore methods of scientific 'story telling'. The resulting documentaries are available for community and educational screenings nationwide. Since 2016, five Science on Screen films have been produced. All have been broadcast on RTE and or TG4, screened at numerous international film festivals and have scooped 6 international awards. The documentaries are used throughout the country at schools, for community screenings as well as at academic conferences and have reached an audience of over 1 million people to date.
Science on Screen 2020 is supported by a partnership between POI, CÚRAM, Galway Film Centre, and the Wellcome Institutional Strategic Support Fund based at UCD.
Entire POI team meets in Galway prior to IACR Conference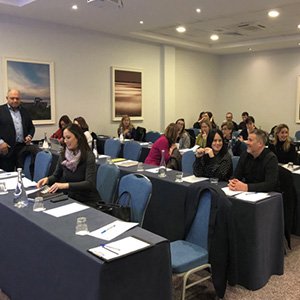 The entire POI team met in Galway on 25th February 2020, just prior to the annual IACR Conference. This gathering gave the team an opportunity to discuss progress thus far and plans for the future. Discussions circulated around the four main research areas of POI: Precision Diagnostics, Precision Therapeutics, Tumour Microenvironment and Resources and Infrastructure.
The Lead Investigator for each research area provided an overview of the projects within, and outlined any practical issues faced to date, followed by a discussion on the science and future plans. The meeting was followed by a networking session so that the team could get to know each other.
Little did we know what was ahead in March as the world shut down due to coronavirus! It was great to get an opportunity to catch up with the team before we all went into lockdown.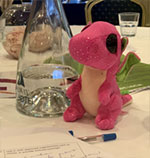 Nationwide visits POI
On Friday 7th February 2020, the RTÉ programme Nationwide broadcasted a segment relating to the ground-breaking work of Precision Oncology Ireland in fast-tracking the delivery of precision medicine in cancer.
The presenter, Anne Cassin, visited the UCD Conway Institute and Systems Biology Ireland to talk to the leaders of the POI programme, Professor Walter Kolch (Director) and Professor William Gallagher (Deputy Director). POI charity partners were also represented, with Dr. Robert O'Connor (Head of Research, Irish Cancer Society) talking about the motivation of getting involved in such a collaborative initiative, and how this can benefit both patients and wider society.
Nationwide also interviewed Professor Amanda McCann about the Patient Voice in Cancer Research (PVCR) programme which she has spearheaded since 2016. The PVCR provides a key opportunity for cancer patients/survivors, family members and cancer researchers to engage in a mutually beneficial dialogue.
The cancer patient community was represented by two patient advocates and PVCR steering committee members, Ramon Whelan and Ciara McNamara, who shared their lived experience of cancer.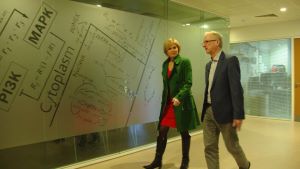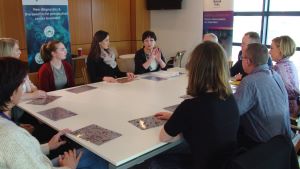 Choirs for Cancer
Choirs for Cancer brought together 10 choirs and more than 300 singers in a moving community tribute to those whose lives have been touched by cancer. The event, attended by more than 700 people, was held in O'Reilly Hall in University College Dublin on 4th February 2020, to mark World Cancer Day.
Choirs for Cancer brought together cancer patients, advocates, survivors and family members to share the story of their cancer journey. Cancer researchers also spoke of their motivation and progress towards finding new ways to prevent, diagnose and treat this devastating disease.
These powerful stories were interspersed with inspirational songs by 10 choirs from across the island of Ireland, many of whom were linked with cancer support centres, or had lost family members to cancer. Contributors included Mount Sion School Choir from Co. Waterford; the ARC Dublin 'ARC Angels' choir; the Healthy Harmony choir from Ennis; the Sing for Life Choir from Cancer Focus Northern Ireland; and the UCD Community Choir, among others. Each choir sang a song with a special meaning to them on the themes of care, hope, strength, love, loss and community, followed by a combined choral performance. Contributions from choirs, patients and well-wishers unable to travel on the day were featured in video clips shown in between performances. The event was co-hosted by RTE broadcasters, Miriam O'Callaghan and Marty Morrissey.
One of the highlights of the day was an emotional rendition of 'Don't give up on me' from Mount Sion Choir, which they dedicated to terminal cancer patient John Wall, who, in his own words, is "Living with cancer, and not dying from it". John was in the front row and the first to rise for a spontaneous standing ovation. He later said "Words just can't describe how honoured I was to hear Mount Sion Choir sing today. One of the most powerful & inspirational events I've ever attended". Another high point was the powerful final group performance by all ten choirs, singing the song 'Something Inside So Strong' in one united voice.
Overall, the event was a resounding success, with overwhelmingly positive feedback from both contributors and attendees. One choir member later commented "Music is so powerful in so many ways and especially ensemble singing. I believe you have found a very special format with which to celebrate everyone whose path crosses cancer, in whatever form that may take".
The event gained significant traction on social media (84,000 mentions of #choirsforcancer2020), and photo and video content featured on a number of media outlets including the Irish Times. The event was also chosen to feature in the World Cancer Day highlights video, which showed clips of selected events from around the globe.
This cancer awareness event was timed to coincide with the 20th anniversary of World Cancer Day, the global uniting initiative led by the Union for International Cancer Control. One in two people in Ireland today will develop cancer during their lifetime. The theme of World Cancer Day is 'I Am and I Will' – a statement of who you are and what is your personal commitment to act. It is a powerful reminder that we all have a role to play in reducing the global impact of cancer.
Choirs for Cancer was jointly organised by Precision Oncology Ireland and The Patient Voice in Cancer Research.
A short video of the event can be found here:
https://www.youtube.com/watch?v=SUxRSV7czrs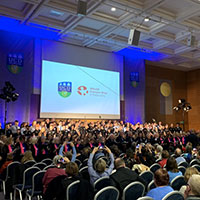 Choirs
St Mary's Newport Secondary School Choir, Tipperary (Song: 'Fight Song')
https://www.youtube.com/watch?v=ULb0M6AKXVw
ARC Angel Choir, ARC Dublin Cancer Support Centre (Song: 'Here comes the Sun')
https://www.youtube.com/watch?v=GEJZPjnkcvg
Healthy Harmony Choir, Ennis (Song: 'Fix You')
https://www.youtube.com/watch?v=3w2ZM4zLk2Q
Mount Sion School Choir, Waterford City (Song: 'Don't give up on me')
https://www.youtube.com/watch?v=faCX5ndLZSU
Solas Cancer Support Centre, Waterford (Song: 'You are my sunshine')
https://www.youtube.com/watch?v=CMGtXMuPVlM
Sing for Life Choir, Cancer Focus Northern Ireland (Song: 'Falling Slowly')
https://www.youtube.com/watch?v=MajUEVv1Ue4
Loreto College, Foxrock (Song: 'Bridge Over Troubled Water')
https://www.youtube.com/watch?v=Ginf6LTByqQ
Maria Lane Choir, Tallaght Cancer Support Centre (Song: 'Stand by Me')
https://www.youtube.com/watch?v=_7NzfvMWzj8
Hermione Hennessy – 'Amazing Grace'
https://www.youtube.com/watch?v=JImsiTIW0AQ&t=702s
UCD Community Choir, University College Dublin – Song: 'Count on Me'
https://www.youtube.com/watch?v=mpNZHWYDxLQ
Group Performance: 'Something Inside So Strong'
https://www.youtube.com/watch?v=aRPt2CntEGc
Genomics Summit co-hosted in Dublin by GMI and UCD
Members of the POI team attended the Genomics Summit, held in the Aviva Stadium in Dublin on the 23rd January 2020, which was co-hosted by POI partner Genomics Medicine Ireland, and UCD Research and Innovation.
The agenda for the day provided some thought-provoking discussions around the potential of genomic medicine to tackle rare genetic disorders and cancer, as well as a focus on the skills and resources required to build a genomics infrastructure in Ireland.
Speakers were drawn from the spheres of academia, industry and patient advocacy, and included Dr. Howard Jacob, VP and Head of Genomic Research at Abbvie, and Prof. Robert Green, Director of the genomes2people Research Program, and Professor of Medicine at Harvard Medical School.
Launch of Precision Oncology Ireland
More than 90 scientists, cancer patients, academic, charity and industry representatives gathered on Tuesday, November 26th, to launch the new Precision Oncology Ireland research programme at University College Dublin. Minister of Business, Enterprise and Innovation, Heather Humphreys TD, was in attendance to say a few words in celebration and cut the ribbon. "I am delighted to announce this significant step forward for cancer research in Ireland," Humphreys said.
"Precision Oncology Ireland is a significant investment, not only from Government, but also from the charity and industry partners in the programme, testimony to their conviction that this initiative will lead to the development of new cancer treatments and make a difference for future cancer patients and their families in our country. I look forward to seeing the impact that this research programme will have in the future," she said.
Minister Humphreys address was preceded by a keynote talk from Dr. Cormac Owens from Children's Health Ireland, as well as an overview on the programme from Professor Walter Kolch. Kolch is the director of Systems Biology Ireland and, now, Precision Oncology Ireland.
"In Precision Oncology Ireland, we will use cutting-edge technologies to generate unique genetic and molecular profiles for each patient's cancer," Kolch said. "Our key competitive advantage lies in the innovative computational methods we use to make sense of these profiles, and decipher what drives each individual cancer. The results of this programme will be better diagnostics, personalised cancer treatment and faster drug discovery and development."
Precision (or 'personalised') medicine uses data about a person's genes (genomics), along with additional information on their cancer, to understand the unique pathways of a disease or treatment response in that person. With this new science, doctors can prescribe the right treatment in a timely fashion, saving the wasted resources and time our current 'trial and error' method incurs, while greatly improving response rates.
The Deputy Director of the programme, Professor William Gallagher, hopes that this programme will allow cancer patients to benefit from research advances at an earlier stage: "We believe that Precision Oncology Ireland will accelerate the development of new diagnostics and therapies for cancer, and allow these advances to reach cancer patients in Ireland earlier. We will also involve patients in this work from the beginning, to ensure that their voice is heard in determining the most relevant research priorities."
In Ireland, more than 40,000 people are diagnosed with cancer each year. Precision approaches to oncology give hope of improving cancer patients response rates and survival, reducing side-effects from therapy, and shortening hospital stays, balancing out any increased cost to the healthcare system. The National Cancer Strategy (2017-2026) called for the introduction of precision diagnostics and therapeutics into frontline cancer care.
Professor Kolch added: "A significant proportion of our funding is down to the generosity of the Irish public in donating and fundraising, via the participation of six of the leading cancer charities in Ireland, the first time they have come together to support a programme of this scale. We want to ensure that their hard work delivers results for cancer patients in Ireland."
Many in attendance at the launch commented on the powerful stories from the evening's "Patient Perspectives" panel of cancer patients, survivors and family members. The panel featured Sheila Murphy, an oesophageal cancer survivor; Edel Cannon, a metastatic breast cancer patient; Ramon Whelan, a testicular cancer survivor, Dr. Alan Pearson, the parent of a child with neuroblastoma, and Jan Rynne a CLL patient, all of whom volunteered to discuss their experiences with cancer and the importance of research initiatives such as Precision Oncology Ireland in future treatment of the disease.
Cancer survivor and patient advocate Ramon Whelan spoke of the importance of this game-changing research for patient's lives: "I'm delighted to see researchers, charities and industry coming together in Ireland to focus as a group on the problems in cancer treatments. Cancer patients want to become more involved in their own treatment decisions, and more personalised diagnostics and treatments are essential for this to happen."
The afternoon presentations were followed by a reception and photo session of all the representative groups and organisations. The launch and associated press release was picked up by a number of media outlets and profiled in the national newspapers and online news sites.
Research Seminars: a busy start to the year!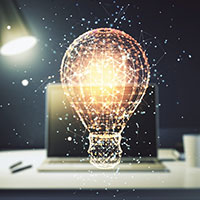 POI hosted seminars by a number of prestigious international speakers in the early months of 2020, kicking off with Dr. Paul Brennan, Head of the Genetics Section and the Genetic Epidemiology group at the International Agency for Research on Cancer in Lyon. Dr. Brennan's research applies genetics to understand more about environmental, lifestyle and infectious causes of cancer, with a particular focus on cancers of the upper-digestive tract, kidney and pancreatic cancers. His talk was entitled: 'What can whole genome sequences of tumours tell us about the causes of cancer?'.
On Tuesday 11th February, POI collaborated with the regular POI CLASS Seminar Series at the UCD Conway Institute to host Dr. Aedín Culhane, Senior Research Scientist at the Dana-Farber Cancer Institute at Harvard TH Chan School of Public Health. Dr. Culhane develops computational approaches to integrate and analyse large scale genomics data to discover cross-talk between tumours and their microenvironment, and she spoke about 'Mapping the Tumor-immune landscape with multiple layers of data'.
On Monday 24th February, we were privileged with the company of Dr. David Lynn, Professor of Medical Informatics at Flinders University in South Australia. Prof. Lynn leads a multidisciplinary group of computational and experimental researchers who apply advanced systems biology and experimental immunology approaches to investigate the immune system and cancer. His talk focused on how 'The gut microbiota influences immune responses systemically in a broad range of contexts – from infant vaccination to cancer immunotherapy', and was very well received.
Unfortunately, following a busy start to the year, early March marked the beginning of a long period of uncertainty, and in-person seminars became an impossibility. Nevertheless, we quickly adapted, and held our first virtual research seminar in conjunction with the UCD Conway Institute CLASS seminar series, on Tuesday 7th April. The speaker was Dr. Liam Faller, Group Leader at the Netherlands Cancer Institute, and himself a former alumni of the UCD Conway Institute. Dr. Faller's research group studies the role that RNA translation plays in cancer, with a particular focus on colorectal cancer. His talk was entitled 'Regulation of gene expression by RNA translation in the intestinal epithelium'.
The transition to an online platform went smoothly, and we had an impressive turnout with great engagement from attendees over the Q&A session. We also found that there are some advantages to holding these talks online, particularly for a national research programme like POI, as they are more accessible to our research team, based all over the country, and even to collaborators worldwide. This format will certainly be the 'new normal' for the foreseeable future, and we look forward to hearing from further talented researchers over the coming months.
Industry Seminar - Prof. Helen McCarthy
Precision Oncology Ireland hosted our first Industry Research Seminar on Tuesday 9th June, showcasing the ground-breaking work of one of our partners, Prof. Helen McCarthy of Phion Therapeutics. Prof. McCarthy holds the Chair of Nanomedicine at Queen's University Belfast, is the Director of Internationalisation in the School of Pharmacy, Associate Dean of the Graduate School and CEO of pHion Therapeutics. Prof McCarthy's research has focused on the development of non-viral delivery systems for nanomedicine applications. Her talk was a mine of information for any researcher interested in the translation of their work from the academic to the industrial sphere. She focused on the 5 W's of her spin-out company, Phion Therapeutics (www.phiontx.co.uk): 'Who, What, When, Where and Why?'.
The biomimetic peptide delivery systems being developed at Phion have wide-spread utility, and are designed to overcome the extra and intracellular barriers, so that the macromolecular payload can be delivered at the destination site in order to exert the optimal therapeutic effect. Current research projects involve gene therapy for metastatic deposits; miRNA therapeutics for oncology and wound healing applications; mRNA and DNA vaccination strategies; repurposing of bisphosphonates and regeneration of bone by increasing the bioavailability of ceramics.
Phion Therapeutics are a POI partner, and within the programme are working with Prof. Tracy Robson at RCSI to develop a novel tumour-specific targeted nanoparticle delivery system to send an anti-angiogenic and anti-migratory gene, FKBPL, directly to ovarian tumours.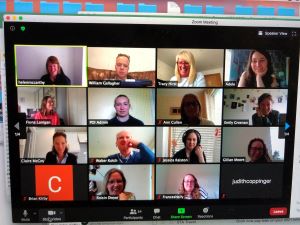 Public talk on Lobular Breast Cancer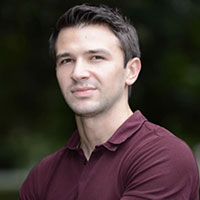 On Tuesday 16th June 2020, Precision Oncology Ireland hosted our first public talk together with our charity partner, the Irish Cancer Society. The speaker was a fantastic Irish breast cancer researcher, Dr. Damir Vareslija, from the Royal College Of Surgeons in Ireland.
Damir is a Research Fellow and Principal Investigator in the Department of Surgery in Royal College of Surgeons in Ireland. He undertook his Science Foundation Ireland-funded PhD training under the tutelage of Prof Leonie Young and Prof Arnold Hill. Damir has been involved in numerous translational collaborative projects funded by Breast Cancer Ireland and the Irish Cancer Society's BREAST-PREDICT Collaborative Cancer Research Centre, during which his work was published in several leading clinical and biomedical journals including JNCI, JAMA Oncology, Oncogene and Clinical Cancer Research. His current research, supported through Breast Cancer Now, Enterprise Ireland, Breast Cancer Ireland and the Irish Cancer Society, is focused on endocrine treatment resistance and metastatic breast cancer with a particular focus on brain metastases.
Damir gave an enlightening talk about Invasive Lobular Carcinoma, entitled: "Biological and Clinical Differences within Breast Cancer: A story of a sneaky subtype". The talk was tailored for a non-scientific audience, and garnered particular interest among the lobular cancer community in Ireland and worldwide. Over 80 attendees tuned in on the day, with a further 70 watching the webinar, which was recorded, at a later date. Feedback from attendees was overwhelmingly positive, with great engagement during the lively Q&A session, and POI look forward to hosting similar events showcasing the great work of Irish researchers in the future.
The webinar recording can be viewed here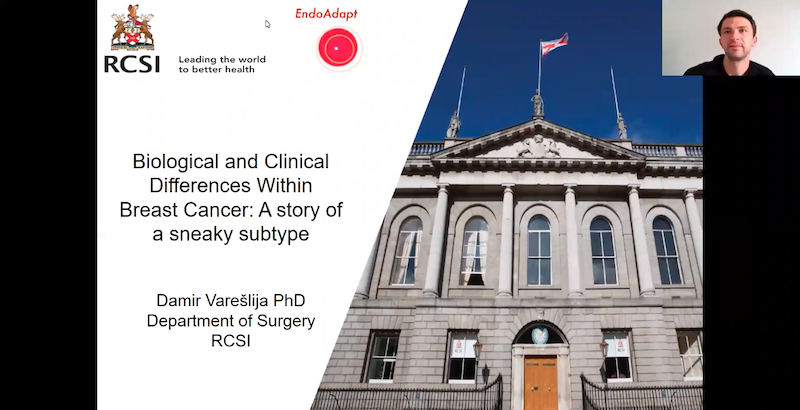 Analysis Platform to support POI research
A pioneering national Comprehensive Molecular Analysis Platform (CMAP), funded by Science Foundation Ireland (SFI) under their Research Infrastructure Programme, will underpin research in chemistry, the bioeconomy, and precision oncology.
The CMAP platform has been awarded €2.7 million by SFI, and incorporates all 9 Irish Universities, 5 SFI Centres, 6 Institutes of Technology, 6 Irish Charities and >20 companies, creating critical mass and enhancing Ireland's competitiveness to participate in and lead international research.
This technology will support scientists characterising food ingredients, developing new drugs, identifying environmental contaminants, and designing new diagnostic tools and therapies that enable personalised treatments of cancer patients. It is open to academic, industry and not-for-profit researchers, and will be situated within UCD, at locations including the UCD Conway Institute, Systems Biology Ireland, the UCD School of Chemistry, and the Daedalus Building.
The need for precise molecular characterisation and quantitation has become an essential research capacity across many sectors, and CMAP will provide the cutting-edge research infrastructure to enable this, particularly through the use of Mass Spectrometry. Initially used for the analysis of small molecules, chemicals and metabolites, this highly accurate technique can now be applied in the identification and quantification of much larger structures, including peptides and carbohydrates.
"The unique selling point of CMAP is its capability to comprehensively deliver, integrate and functionally interpret omics and deep molecular analysis data", said Lead Investigator on the award, Prof. Walter Kolch, Director of Systems Biology Ireland and Precision Oncology Ireland, based at University College Dublin.
"CMAP will allow us to meet evolving research challenges, and enhance our appeal to industry partners, as it will be the only technology platform in Ireland that offers integrated and comprehensive molecular analysis in the omics and chemical space", Prof. Kolch added.
CMAP feeds into 5 national priority areas supporting strategic sectors, such as chemistry, bioeconomy, synthetic biology, food and health, and precision medicine, supporting discovery and innovation in research from molecules to microorganisms and humans.
Access to state-of the-art CMAP infrastructure and support will be open to the research team within POI, boosting their research capabilities and encouraging a more collaborative approach nationally. The involvement of research institutes on a national level facilitates inter-institutional sharing of this crucial research infrastructure, allowing the optimum use of these resources, as well as sharing of technical expertise and analysis pipelines.
CMAP further details:
CMAP will supply essential infrastructure to five SFI Research Centres (Beacon Bioeconomy Centre, Synthesis and Solid State Pharmaceutical Centre (SSPC), CURAM, APC Microbiome, INFANT). CMAP further supports Precision Oncology Ireland, a major strategic partnership programme supported by SFI; Systems Biology Ireland (SBI), a major previous SFI investment; the EI funded Food for Health Ireland (FHI) centre; the Conway Institute, Ireland's largest biomedical institute, which has provided advanced technology services to UCD and Ireland for >10 years; several EU and other large-scale grants; and the INSTRUCT Advanced Community.
The equipment funded includes:
Two high resolution mass spectrometers (MS) for protein identification and quantitation;

A MALDI-ToF MS for high throughput identification of microorganisms and molecules from bio-based resources, animal and human samples;

Two Quadrupole MS for analysis of products from chemical synthesis and high resolution structure elucidation;

A Liquid Chromatography MS for the identification and quantitation of metabolites and nutritional ingredients;

An automated Immunoprecipitation (IP) system for the elucidation of protein-protein interactions

A Computing Facility for the associated data analysis.
Irish breast cancer study highlights potential new treatment approach
Thursday 1 October 2020: A new study by Irish researchers may pave the way to developing a more effective means of treating patients with the most common form of breast cancer
The promising findings are described in a paper published in the leading journal "Cancer Research", a journal of the American Association for Cancer Research, in a study headed by researchers from RCSI University of Medicine and Health Sciences, and UCD, who led an international team of colleagues from the Netherlands Cancer Institute and Oxford University, among others.
Up to three-quarters of breast cancer patients are diagnosed with what is known as the 'hormone receptor-positive' form of the disease, which affects more than 2,000 women each year in Ireland. While existing hormone receptor-targeting therapies such as tamoxifen are effective for many patients, some do not respond to the treatment or prove resistant to it if their cancer returns. Ultimately, almost half of patients receiving hormone treatments experience a relapse of their disease, and researchers are urgently looking for new treatment options for these patients.
The research team, co-led by Prof Darran O'Connor from RCSI and Prof William Gallagher from UCD, discovered a potential new treatment approach for patients who are resistant to hormone therapy. The study found that a protein called 'USP11' plays a central role in the growth of hormone receptor-positive breast cancer cells, and that targeting this protein may provide a new form of treatment to help stop this growth in a way never attempted previously.
Although studies remain at an early stage, it is hoped this finding could eventually help prompt a significant step forward in treatment options for patients for whom existing hormone therapy has proven unsuccessful.
The study is a result of the Irish Cancer Society-funded BREAST-PREDICT programme which brought experts from around the country together to work on breast cancer research projects. Some of the programme's activities are continuing as part of the ground-breaking Precision Oncology Ireland consortium of 5 universities, 8 companies, and 6 charities, including the Irish Cancer Society, which aims to develop new diagnostics and therapeutics for personalised cancer treatment.
Prof Darran O'Connor said: "The study represents an early indication of a possible new treatment strategy for a group of breast cancer patients whose cancer comes back but has acquired changes that mean traditional anti-hormone therapy will no longer work."
Lead author Dr Lisa Dwane from RCSI said: "Understanding how breast cancer is controlled at the cellular level is key for disease management and finding new therapies for patients. In this study, we found that the protein USP11 can regulate hormone-driven breast cancer and with further research, may represent a point of therapeutic intervention."
Study joint senior author Prof William Gallagher and Director of the BREAST-PREDICT programme commented: "This ground-breaking study by Dr Dwane and colleagues is a perfect example of the benefit of working in a team-based manner to advance cancer research."
Dr Robert O'Connor, Director of Research at the Irish Cancer Society, said: "This work is yet another example of the high quality, impactful cancer research that public support allows happen in Ireland."
October marks the beginning of Breast Cancer Awareness Month, and members of the public can show their support for cutting-edge breast cancer research such as this by logging on and donating at www.Cancer.ie/CupsAgainstBreastCancer.
ENDS
This press release was covered in the 'Irish Independent' on Friday 2nd October 2020. See full article here.
About Irish Cancer Society Research
The Irish Cancer Society is the largest voluntary funder of cancer research in Ireland, and we are committed to improving the lives of cancer patients in Ireland through research. The Irish Cancer Society funds the work of over 100 cancer researchers in leading institutions and hospitals all across Ireland, and funds projects across the range of research areas in line with our mission to ensure fewer people get cancer, and those that do have better outcomes.
Our vision is that cancer research will be at the heart of cancer care. This will ensure that patients diagnosed with cancer in Ireland will have access to the most cutting-edge treatments and the best possible care.
About BREAST-PREDICT
The BREAST-PREDICT Collaborative Cancer Research Centre was a country-wide collaboration between experts in the area of breast cancer research, funded by the Irish Cancer Society, which ran between 2013-2019. The first 'virtual centre' of its kind in the country, BREAST-PREDICT brought together researchers from six academic institutions across Ireland: UCD, TCD, RCSI, DCU, NUIG and UCC, and a nationwide clinical trials group, Cancer Trials Ireland (formerly ICORG). As a multi-disciplinary centre, it united diverse breast cancer experts with different skills to work towards a common goal.
About Precision Oncology Ireland
Precision Oncology Ireland is a consortium of 5 Irish universities, 8 companies, and 6 Irish cancer research charities, including the Irish Cancer Society, aiming to develop new diagnostics and therapeutics for the personalised treatment of cancer. The Consortium is part-funded by Science Foundation Ireland under their Strategic Partnership Programme, is co-ordinated by Systems Biology Ireland, and launched in November 2019.
The outcomes of this research programme will range from diagnostic tests for cancer based on personal molecular markers, novel drugs which specifically target cancer cells, and improved synergistic drug combinations. The programme will also provide key infrastructural supports to researchers, co-ordinating access to tumour biobanks, and allowing access to state-of-the-art technologies. More information can be found at www.precisiononcology.ie.
POI Public talk series for Cancer Week Ireland
To mark
Cancer
Week
Ireland which runs from Monday the 28th of September until Sunday the 4th of October, POI collaborated with our charity partners and patient advocacy groups on a number of public lay talks, presented by world- leading
cancer
researchers, including our own POI Director, Prof. Walter Kolch. You can find out more about
Cancer
Week
Ireland here:
https://cancerweek.ie/about/

Precision Oncology Ireland/Irish

Cancer

Society Public Talk with Prof. Cathy Kelly
Monday September 28th, 11am, via Zoom
On September 28th, the Irish
Cancer
Society in association with Precision Oncology Ireland hosted their first webinar as part of
Cancer
Week
.
Cancer
Week
Ireland is about encouraging us all to open up about
cancer
so that the fear of the past can be replaced by hope for better outcomes and a brighter future. Irish
Cancer
Society funded researcher, Prof Catherine Kelly discussed the importance of breast
cancer
research in Ireland.
Professor Catherine M. Kelly is a Consultant Medical Oncologist at the Mater Misericordiae University Hospital and Associate Clinical Professor at University College Dublin. Prof. Kelly is the Medical Director of the Mater Hospital
Cancer
Trials and Research Unit. She is also Co-Chair of the Breast
Cancer
Group of
Cancer
Trials Ireland. Prof. Kelly was the recipient of the Irish
Cancer
Society, Clinician Researcher Leadership Award 2018.
This event was recorded and can be accessed by emailing
research@irishcancer.ie
POI Public talk on Lobular Breast

Cancer

in conjunction with Lobular Ireland.
Wednesday 30th September, 2.30pm, via Zoom
"Invasive Lobular Breast
Cancer
– What we know, and what we don't know".
On 30th September 2020, Precision Oncology Ireland hosted a public talk on lobular breast
cancer
, a type of breast
cancer
that can be more difficult to detect than the more common ductal breast
cancer
, and can respond differently to standard treatments. The speaker was world-leading breast
cancer
researcher Prof. Steffi Oesterrreich from the UPMC Hillman Medical Center, and the talk was followed by an open Q&A session chaired by Prof. Leonie Young from the Royal College of Surgeons Ireland. This event was organised in conjunction with the advocacy group Lobular Ireland.
Precision Oncology Ireland/National Children's Research Centre Public talk on Neuroblastoma with Prof. Walter Kolch
Wednesday 7th October, 3pm, via Zoom.
"Can computer models help cure
cancer
? Neuroblastoma as an example".
On 7th October 2020, Precision Oncology Ireland hosted a public talk focused on the latest cutting edge scientific research on Neuroblastoma, a rare but devastating childhood
cancer
, from world-leading precision medicine researcher Prof. Walter Kolch from University College Dublin. The talk was followed by an open Q&A session chaired by Consultant Paediatric Oncologist Dr. Cormac Owens from Children's Health Ireland. This event was organised in conjunction with the National Children's Research Centre, tailored for a lay audience, and was open to anyone with an interest in
cancer
research or neuroblastoma.
Researchers and Patients in Conversation
POI has collaborated with our charity partner Breakthrough
Cancer
Research to create some video clips featuring patient advocates interviewing cancer researchers, aimed at demystifying precision oncology for a lay audience. Mandy Quirke and Helen McGonagle are members of the Breakthrough Cancer Research Public Patient Panel, and for Cancer Week, we filmed them having a chat with some of our researchers.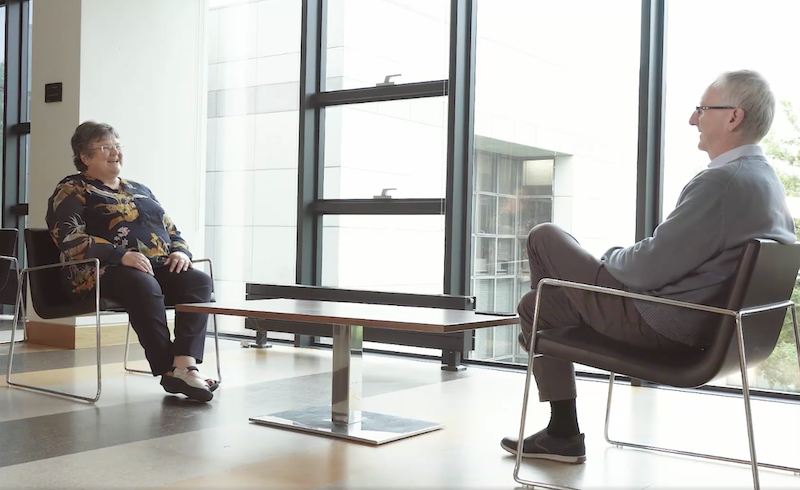 Mandy Quirke is a breast cancer survivor who joined Breakthrough's Public Patient Initiative feeling that by learning more about research and cancer, she might be less anxious about the possibility of her cancer returning. "Being part of Breakthrough's PPI panel has been tremendously helpful to me. I met a lovely group of people who understood my anxiety and the way life changes after cancer. But also reading about the research was so reassuring, not just because it highlighted the search for and possibility of cures for the more difficult cancers, but because of the passion and commitment of the medical/ scientific research groups."
Mandy met Professor Walter Kolch, Director of Precision Oncology Ireland to talk about what Precision Oncology is and how it might change treatment of cancer patients in the future. Hear what Mandy found out.
Helen McGonagle's cancer diagnosis came out of the blue, picked up in a mammogram having never had any symptoms. Helen joined Breakthrough's Public Patient Initiative because she liked the idea that she was, in a small way, paying back the cancer research community for the excellent treatment she received as a result of their work in the past. "I think PPI creates a type of partnership between cancer researchers, funding bodies and those affected by cancer and helps support connections. I think that input from patients and others affected by cancer can help – it takes the research from the theoretical to the practical. I hope I can help in that way"
Helen met Dr. Mark Tangney, Principal Investigator in UCC to talk about why, as part of Precision Oncology Ireland, his team is looking at bacteria in relation to cancer and how it might influence patient care in the future. Hear what Helen found out.
POI Governance Committee meet for first time
The POI team are privileged to have the guidance of our Governance Committee (GC), who met for the first time on Friday 27th November. This independent group will provide oversight of POI's progress and strategic vision, evaluate performance, & ensure a clear direction for the consortium in the years ahead
The GC includes high-profile figures from political, academic, industry, clinical & patient advocacy circles on the island of Ireland, bringing a diverse set of skills & experience to the table.
Chair of the Committee is David Byrne, Senior Counsel, former EU Commissioner for Health & Consumer Protection & Attorney General of Ireland. He is a founding member & Co-Chair of the European Alliance for Personalised Medicine
GC members include healthcare expert Tommy Bracken; Consultant Endocrinologist Prof. Brendan Buckley; Consultant Medical Oncologist at University Hospital Limerick, Prof. Linda Coate; Associate Pro-Vice-Chancellor at Queen's University Belfast and Scientific Director of DATA-CAN Prof. Mark Lawler; College Principal at UCD College of Health and Agricultural Sciences Prof. Cecily Kelleher, Consultant Medical Oncologist at the Mater Hospital Prof John McCaffrey, CEO of IPPOSI Dr. Derick Mitchell, CEO of NIBRT Dr. Darrin Morrissey, and Patient advocate and founder of CLL Ireland Jan Rynne.
We are lucky to have such a wealth of experience on board, and we extend our gratitude to our GC members for giving of their time, expertise and passion to make our vision a reality!
Find out more about our Governance Committee members here.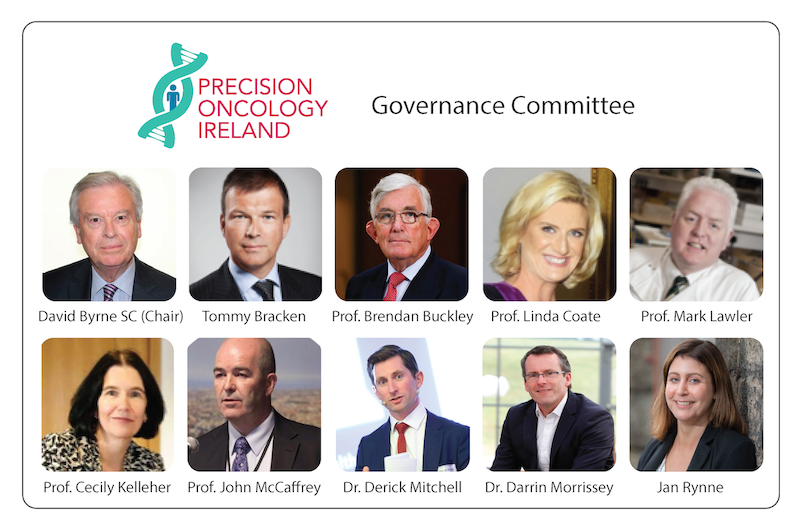 Launch of a new EU-funded training programme, 'DevelopMed'
PRESS RELEASE
€1.32 million in EU funding to support training the next generation of research leaders in precision oncology
Launch of a new MSCA COFUND Programme, 'DevelopMed'
9 December: Today marks the official launch of a new Marie Sklodowska-Curie (MSCA) COFUND programme, 'Developing the Next Generation of Research Leaders in Precision Oncology' (DevelopMed). The MSCA COFUND programme was officially launched by Prof. Cecily Kelleher, College of Health and Agricultural Sciences and Prof. Orla Feely, VP for Research, Innovation and Impact at UCD. DevelopMed, which is coordinated by Systems Biology Ireland (SBI) in UCD, entails an EU investment of €1.32 million.
DevelopMed is a training programme which will support the development of high calibre research fellows who are at an early stage of their careers. Fellows will be conducting research throughout Ireland in Precision Oncology within the themes of Diagnostics, Drug Development and the Tumour Microenvironment. Institutions hosting fellows include University College Dublin, the National University of Ireland Galway, University College Cork and the RCSI University of Medicine and Health Sciences.
Recent figures from 2018 show that Europe bears 25% of the global cancer burden despite encompassing only 9% of the world population. With increasing life expectancy it is anticipated that cancer will soon become the leading cause of mortality within the European Union. Technological advancements in genomics, imaging, computational modelling and artificial intelligence provide a powerful toolkit for cancer researchers. However, the cancer research community is faced with a shortage in skilled scientists and clinicians able to deploy these technologies in the fight against cancer.
DevelopMed is a game-changing interdisciplinary training programme providing a cutting-edge research environment for the future world leaders in precision oncology. The prestigious fellowships will facilitate training through research to fully equip fellows with the skills and intersectoral competencies to enhance their career development prospects. Fellows will also partake in 3-6 month secondments at global research-performing organisations in industry, academic, clinical and charity settings.
Remarking on the new programme, the DevelopMed Programme Coordinator, Prof. Walter Kolch said: "We are thrilled with the opportunity to train the next generation of leaders in precision oncology research. DevelopMed provides a unique opportunity to develop excellent scientists and clinicians and to inspire in them an entrepreneurial, cross-disciplinary problem-solving mindset for tackling cancer."
DevelopMed builds on a previous MSCA COFUND programme coordinated by SBI, 'TopMed10'. This supported nine postdoctoral fellows in personalised medicine research projects, who have now moved on to prestigious positions in academia and industry. DevelopMed will also interact closely with Precision Oncology Ireland, a Science Foundation Ireland Strategic Partnership Programme with partners in the industry and charity sectors.
Supporting the initiative at the launch event, Prof. Orla Feely said: "It is great to see the success that has been delivered from TopMed10 in terms of training outstanding researchers. DevelopMed builds strategically on this previously successful programme and offers a wonderful opportunity for fellows. We can expect to see excellent researchers come through this programme and go on to enormously rewarding careers, delivering important impact in the exciting area of precision oncology."
Prof. Kolch added: "We look forward to the many interactions between DevelopMed and Precision Oncology Ireland. This consortium of academics, industry and charity partners presents an incredible network for DevelopMed fellows and positions them to deliver extraordinary impact for Ireland and the EU."
ENDS
For further information, please contact:

Prof. Walter Kolch, SBI Director, at developmed@ucd.ie
Additional Information:
DevelopMed is a Marie Sklodowska-Curie (MSCA) COFUND programme titled 'Developing the Next Generation of Research Leaders in Precision Oncology'. This project has received funding from the European Union's Horizon 2020 research and innovation programme under the Marie Skłodowska-Curie grant agreement No 945425.
This communication reflects only the author's view and the Agency and the Commission are not responsible for any use that may be made of the information it contains.
TopMed10, is a MSCA programme coordinated by SBI. Further information can be found on the programme website (https://www.ucd.ie/topmed10/).
Invisible Spectrum - Breaking down barriers to STEM participation in Ireland
While a good deal of effort has been expended in Ireland in opening up the fields of Science, Technology, Engineering and Maths to a more diverse group in terms of gender, the same cannot be said for ethnicity. The Irish Department of Education's 2016 report on STEM Education did not mention ethnicity as a barrier to STEM uptake. Studies worldwide have found wide variations in STEM uptake between different ethnic minorities. For example, a UK study found that Pakistani, Bangladeshi, Caribbean and Black African pupils aged 7-11 performed below the national average in science1. In the UK workforce, the most under-represented group in STEM roles were Bangladeshi, at 1.6% of their population, compared to 5% for White ethnic2. Differences in STEM uptake by ethnicity are complex, and strongly interlinked with socio-economic status, family background, and cultural factors.
There can also be specific barriers within minority communities in terms of cancer. Ethnocultural beliefs around cancer stigma, fear, and fatalism are more prevalent within ethnic minority groups, often resulting in lower uptake of cancer screening3, reduced cancer symptom awareness4, delayed presentation5, and in some cases, poorer survival6. There has been little to no research in Ireland focused on barriers to access within minority ethnic groups. Indeed, the National Cancer Registry in Ireland do not collect information on ethnicity, and thus, rates of cancer incidence and mortality within ethnic minorities are unknown. Minority groups are effectively 'invisible' in Irish cancer research, and we believe that engaging with these communities is a small step towards a more inclusive research agenda.
With this in mind, POI aimed to reach out to specific minority ethnic community groups for Science Week 2020, with a tailored programme of activities aimed at improving awareness of STEM and cancer research. As a research programme at the cutting edge of precision medicine for cancer, POI sees the need to build a strong public engagement agenda, as precision oncology has the potential to positively impact the health and wellbeing of current and future cancer patients and their families. We believe that science should be accessible to all, and the potential disparity in access and understanding of scientific and healthcare information in minority ethnic groups should be addressed.
The 'Invisible Spectrum' programme was co-designed with minority ethnic community leaders to meet the needs of each representative group, and was supported by Science Foundation Ireland under its Science Week programme for November 2020.
Due to COVID restrictions, the planned programme of fun family activities had to be moved to an online workshop format. Based on the input of the community group leaders, the initial goal of enhancing understanding and appreciation of scientific research was expanded to include some content on cancer screening and symptom awareness. A gender-segregated discussion session was also added, as many community members would not feel comfortable sharing in a mixed-gender group due to sociocultural practises. All content was translated either in writing or verbally into the preferred language of the community group. To include all of the family, and compensate for the move to a virtual event, we also held a science-themed children's art competition, aligned with the online workshop.
The workshop began with a brief lay introduction to precision oncology, including a 3D movie of the tumour environment. This was followed by short multi-lingual talks by researchers who are members of the minority ethnic community group. An interactive workshop on the use of biomarkers for precision oncology concluded the research portion of the workshop. Participants were then transferred to gender-segregated breakout rooms, where a trained nurse or facilitator gave a short talk on cancer screening and symptom awareness, with an opportunity to ask questions and discuss any issues within the group. Finally, participants were transferred back to the main workshop room, where the results for the children's art competition were announced, before closing the event.
The feedback we received from participants following the event was overwhelmingly positive, with many commenting that they would have preferred a longer session to better avail of the opportunity to interact with the researchers. Overall, 85% of participants surveyed following the event said that they would attend a similar event in the future, and 80% felt more informed about science and cancer research following the event. More than 90% said they would now be more aware of cancer symptoms, and >90% were more likely to encourage their children to pursue STEM careers having attended the event.
In the longer term, we hope that this event will effectively act as a pilot event for a broader programme of public engagement activities. The key to diverse and inclusive public engagement is flexibility, sensitivity, and building trust within the community. We hope that our learnings from this event will inform and shape our future public engagement strategy, with a particular focus on engaging with underserved minority communities.
The POI team would like to thank the leaders and members of the community groups who took part in the Invisible Spectrum events, as well as our colleagues at University College Dublin and the Irish Cancer Society for their support with facilitating the various event sessions.
CASE: Improving Diversity in STEM report, 2014
STEM Choices: Equality & Diversity: Ethnicity. Department of Education, UK, 2009
Marlow et al., J Fam Plann Reprod Health Care (2015) 41(4):248-54
Niksic et al., British Journal of Cancer (2016) 115:136–144
Yedjou et al., Int. J. Environ. Public Health (2017) 14:486
Cancer Incidence and Survival By Major Ethnic Group, England, 2002 – 2006. NCIN/CRUK
Choirs for Cancer 2021
To mark World Cancer Day (04 February), hundreds of singers across the world will lend their voices in an online community tribute to those whose lives have been touched by cancer. 'Choirs for Cancer 2021' brings together cancer patients, family members, allied medical professionals and cancer researchers to share the story of their cancer journey. These stories will be interspersed with inspirational songs from multiple choirs from around the world, many linked with cancer support centres or cancer fundraising efforts. 'Choirs for Cancer 2021' also recognises the tireless work of patient advocates, including Sheila Kissane (UK) and Roberta Horgan (Ireland), as well as highlighting ongoing advances in cancer research. 'Choirs for Cancer' is jointly organised by Precision Oncology Ireland, the Patient Voice in Cancer Research and the All-Island Cancer Research Institute, together with the ongoing support of the 'Choirs for Cancer' committee.
Agenda
'Choirs for Cancer 2021' will hear singers, including school children, young adults, cancer patients and their families, from Boston, Philadelphia, New York; from Umeå, Sweden and Trelew, Argentina, as well as Ireland, the United Kingdom and Italy. We also hear poignant stories from individuals on their cancer journey; reinforcing the reality that cancer affects most families across the world in some degree. Cancer has no borders.
Each choir will sing a song with a special meaning to them on the theme of togetherness, followed by a combined choral performance of 'From Now On', a song from The Greatest Showman.
Choirs
Snowflake Singers, Sweden
Shout at Cancer Choir, UK
The Quay of Sea Voices Choir (part of the Fine Voice Academy), UK
The Philadelphia Boys Choir & Chorale and Philadelphia Girls Choir, USA
Women's Voices Chorus, USA
UCD Community Choir, Ireland
The Line-Up Choir, Ireland
Mason-Rice Chorus, USA
Tenovus Cancer Care's Sing with Us Choir, Wales
St. Mary's Secondary School, Ireland
Voci Fuori Dal Coro, Italy
@WeAreInPuglia, Italy
The Healthy Harmony Choir, Ireland
The Municipal Choir of Trelew, Argentina
Sing for Hope, USA
Dublin Gospel Choir, Ireland
Mount Sion School Choir, Ireland
Loreto College, Ireland
Adam Ezra Group, USA
Sea of Change Choir, Ireland
Solas Men's Choir, Ireland
World Cancer Day
World Cancer Day, the global uniting initiative led by the Union for International Cancer Control, is marked each year on 4th February. World Cancer Day empowers people across the world to show support, raise our collective voice, take personal action and press governments to do more. The theme of World Cancer Day is 'I Am and I Will' - an empowering call-to-action urging for personal commitment, and representing the power of individual action taken now to impact the future. More than one third of cancer cases can be prevented. Another third can be cured if detected early and treated properly. By implementing resource-appropriate strategies on prevention, early detection and treatment, we can save up to 3.7 million lives every year.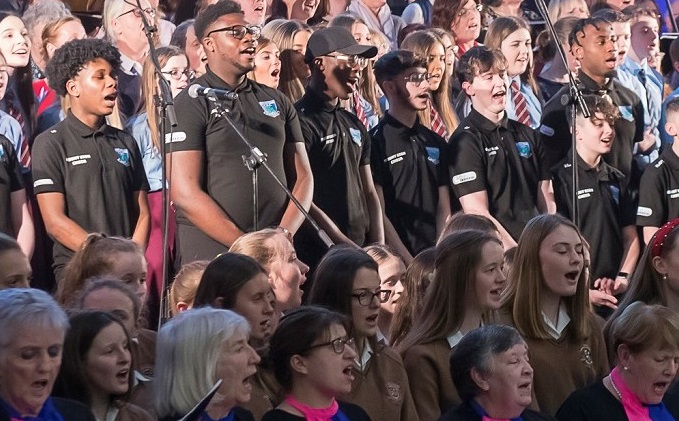 Here is a snapshot of members from the many choirs involved in last year's event in O'Reilly Hall, UCD coming together on stage to sing the final song of the day.