Choirs for Cancer 2023
POI is delighted to be helping out in the organistaion of this years "Choirs for Cancer" event! For the 4th time, choirs from around Ireland will join together in song to mark World Cancer Day (Saturday, 4th February). This event will honour all those whose lives have been touched by cancer and remember those we have unfortunately lost. Choirs for Cancer brings together cancer patients, family members, allied medical professionals and cancer researchers to share the story of their cancer journey.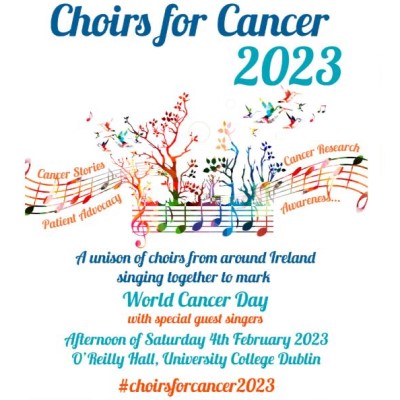 Featuring choir performances from;
Sea of Change Choir (Ireland's Got Talent 2019 Finalists)
Sing for Life Choir (Northern Ireland)
Mount Sion Choir (Waterford)
UCD Community Choir
The Mellow Tonics Choir
With special guests;
Mairead Ni Mhaonaigh
Anne Randolph
Joe O'Sullivan
Stephen Bradley
The event will be held in UCD, Dublin and is completely free but you do have to register, which you can do by following the link below.
To get you in the mood, we've also included links below to where you can watch a short highlight video of the 2020 event and the full 2021 online event.
Choirs for Cancer 2020
Choirs for Cancer 2021