POI program announces a new research project studying childhood blood cancers
Published 19th October
Precision Oncology Ireland is happy to announce a new project focused on using precision oncology approaches to Childhood Blood Cancers. After a comprehensive review process earlier this year, the project spearheaded by Prof. Jonathan Bond was approved for funding in POI. The research project aims to utilize high-throughput approaches to understand molecular vulnerabilities in High-Risk Childhood Blood Cancers. The project is co-funded by POI's existing partner, the National Children's Research Centre and Children's Health Ireland at Crumlin.
The project is due to commence later this month.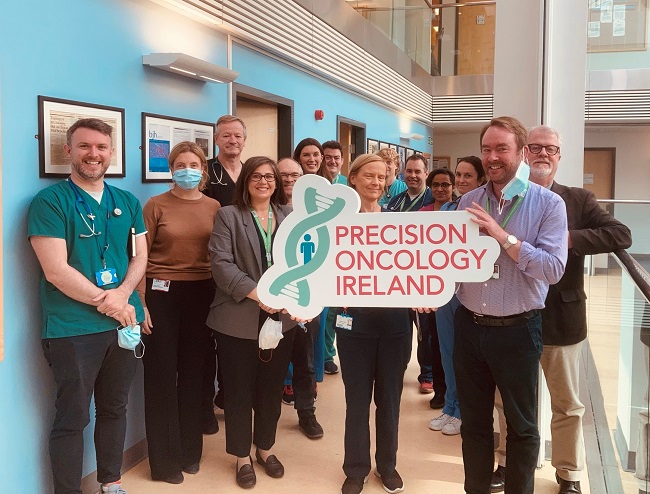 (Photo: Prof. Jonathan Bond, right, with members of the Childhood Blood Cancer clinical service at Children's Health Ireland at Crumlin. SBI's Dr. Peter McCarthy and Prof. Owen Smith are also pictured.)

Professor Bond is a medical graduate of Trinity College and trained as a clinical haematologist in Ireland. He went on to do a Ph.D. in Molecular Haematology at what is now the London Institute of Medical Sciences, followed by a post-doctoral fellowship at the Hôpital Necker-Enfants Malades in Paris. Professor Bond returned to Ireland in 2018 to lead a new collaborative paediatric leukaemia research program between Systems Biology Ireland at UCD and the National Children's Cancer Service at Children's Health Ireland at Crumlin, where he also holds an Honorary Consultant Haematologist position.
When asked about the project, Prof. Bond said: "I am very excited about this project, which I believe will help us to find better treatments for some of the most aggressive paediatric cancers. It's also a huge boost for childhood leukaemia research in Ireland to be part of the POI consortium."
In relation to how the project came about, he replied, "I would particularly like to acknowledge the funding support of the National Children's Research Centre and Children's Health Ireland at Crumlin and to thank all the people who have contributed to the Children's Health Foundation charity. Without their donations, this work would not be possible.
This latest addition of Prof. Bond's project to POI truly adds merit and extends the scope of precision oncology to tackle a deadly disease that affects some of the most vulnerable members of our society.
The Precision Oncology Ireland team is excited to welcome Prof. Bond and his group to the programme and look forward to witnessing the research achievements that are to come following this announcement.