Choirs for Cancer 2021
Published 5th February 2021
To mark World Cancer Day (04 February), hundreds of singers across the world lent their voices in an online community tribute to those whose lives have been touched by cancer. 'Choirs for Cancer 2021' brought together cancer patients, family members, allied medical professionals and cancer researchers to share the story of their cancer journey. These stories were interspersed with inspirational songs from multiple choirs from around the world, many linked with cancer support centres or cancer fundraising efforts. 'Choirs for Cancer 2021' also recognised the tireless work of patient advocates, including Sheila Kissane (UK) and Roberta Horgan (Ireland), as well as highlighting ongoing advances in cancer research. 'Choirs for Cancer' was jointly organised by Precision Oncology Ireland, the Patient Voice in Cancer Research and the All-Island Cancer Research Institute, together with the ongoing support of the 'Choirs for Cancer' committee.
Agenda
'Choirs for Cancer 2021' heard singers, including school children, young adults, cancer patients and their families, from Boston, Philadelphia, New York; from Umeå, Sweden and Trelew, Argentina, as well as Ireland, the United Kingdom and Italy. We also heard poignant stories from individuals on their cancer journey; reinforcing the reality that cancer affects most families across the world in some degree. Cancer has no borders.
Each choir sang a song with a special meaning to them on the theme of togetherness, followed by a combined choral performance of 'From Now On', a song from The Greatest Showman.
Choirs
Snowflake Singers, Sweden
Shout at Cancer Choir, UK
The Quay of Sea Voices Choir (part of the Fine Voice Academy), UK
The Philadelphia Boys Choir & Chorale and Philadelphia Girls Choir, USA
Women's Voices Chorus, USA
UCD Community Choir, Ireland
The Line-Up Choir, Ireland
Mason-Rice Chorus, USA
Tenovus Cancer Care's Sing with Us Choir, Wales
St. Mary's Secondary School, Ireland
Voci Fuori Dal Coro, Italy
@WeAreInPuglia, Italy
The Healthy Harmony Choir, Ireland
The Municipal Choir of Trelew, Argentina
Sing for Hope, USA
Dublin Gospel Choir, Ireland
Mount Sion School Choir, Ireland
Loreto College, Ireland
Adam Ezra Group, USA
Sea of Change Choir, Ireland
Solas Men's Choir, Ireland
World Cancer Day
World Cancer Day, the global uniting initiative led by the Union for International Cancer Control, is marked each year on 4th February. World Cancer Day empowers people across the world to show support, raise our collective voice, take personal action and press governments to do more. The theme of World Cancer Day is 'I Am and I Will' - an empowering call-to-action urging for personal commitment, and representing the power of individual action taken now to impact the future. More than one third of cancer cases can be prevented. Another third can be cured if detected early and treated properly. By implementing resource-appropriate strategies on prevention, early detection and treatment, we can save up to 3.7 million lives every year.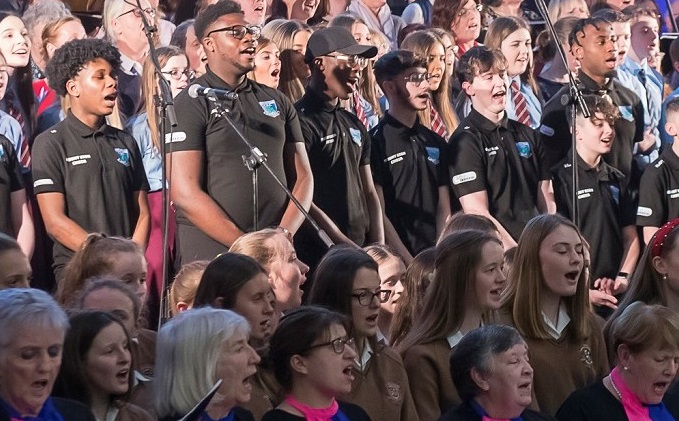 Here is a snapshot of members from the many choirs involved in last year's event in O'Reilly Hall, UCD coming together on stage to sing the final song of the day.