Researchers and Patients in Conversation
Published 5th October 2020
POI has collaborated with our charity partner Breakthrough
Cancer
Research to create some video clips featuring patient advocates interviewing cancer researchers, aimed at demystifying precision oncology for a lay audience. Mandy Quirke and Helen McGonagle are members of the Breakthrough Cancer Research Public Patient Panel, and for Cancer Week, we filmed them having a chat with some of our researchers.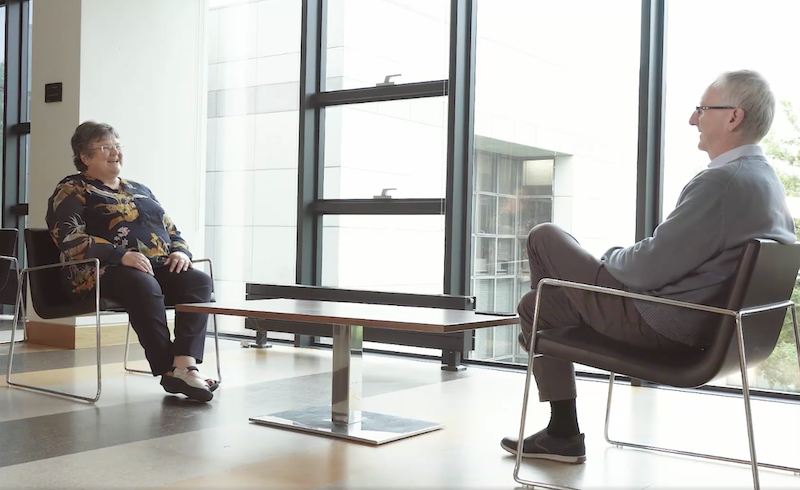 Mandy Quirke is a breast cancer survivor who joined Breakthrough's Public Patient Initiative feeling that by learning more about research and cancer, she might be less anxious about the possibility of her cancer returning. "Being part of Breakthrough's PPI panel has been tremendously helpful to me. I met a lovely group of people who understood my anxiety and the way life changes after cancer. But also reading about the research was so reassuring, not just because it highlighted the search for and possibility of cures for the more difficult cancers, but because of the passion and commitment of the medical/ scientific research groups."
Mandy met Professor Walter Kolch, Director of Precision Oncology Ireland to talk about what Precision Oncology is and how it might change treatment of cancer patients in the future. Hear what Mandy found out.
Helen McGonagle's cancer diagnosis came out of the blue, picked up in a mammogram having never had any symptoms. Helen joined Breakthrough's Public Patient Initiative because she liked the idea that she was, in a small way, paying back the cancer research community for the excellent treatment she received as a result of their work in the past. "I think PPI creates a type of partnership between cancer researchers, funding bodies and those affected by cancer and helps support connections. I think that input from patients and others affected by cancer can help – it takes the research from the theoretical to the practical. I hope I can help in that way"
Helen met Dr. Mark Tangney, Principal Investigator in UCC to talk about why, as part of Precision Oncology Ireland, his team is looking at bacteria in relation to cancer and how it might influence patient care in the future. Hear what Helen found out.