POI and CÚRAM partner for Science on Screen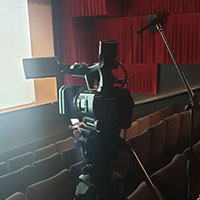 POI has partnered with CÚRAM, the SFI Research Centre for Medical Devices at NUI Galway and Galway Film Centre, in this year's Science on Screen programme, which will commission a short scientific documentary focused on science and cancer research. The Information Day for Filmmakers took place on 26th February 2020 in Galway, where POI researchers and patient advocates shared their stories. The original timeline for the documentary has now been pushed back due to the COVID crisis, and is planned for release in mid-late 2021.
Science on Screen began in 2016, and aims to facilitate, promote and increase the inclusion of science, technology, engineering and maths (STEM) content in Irish film and TV production, and to explore methods of scientific 'story telling'. The resulting documentaries are available for community and educational screenings nationwide. Since 2016, five Science on Screen films have been produced. All have been broadcast on RTE and or TG4, screened at numerous international film festivals and have scooped 6 international awards. The documentaries are used throughout the country at schools, for community screenings as well as at academic conferences and have reached an audience of over 1 million people to date.
Science on Screen 2020 is supported by a partnership between POI, CÚRAM, Galway Film Centre, and the Wellcome Institutional Strategic Support Fund based at UCD.