My first experience in a cancer research laboratory
Written by: Zarghona Hassani, Apoptosis Research Centre, NUI Galway
Published: June 20th 2022
When I arrived in Ireland, I never thought that less than a year later, I would be an intern in a cancer research laboratory. I studied science at Kabul University, where I specialized in chemistry. After obtaining my degree in chemistry, I worked as a teacher and I became the principal of a private all girl school. I was responsible for more than 500 children and approximately 70 staff. Working as a principal of the school was not easy for a woman, especially for someone at my age. But, I was happy in my job, I enjoyed working with the students and staff, and welcomed the challenges it brought. I felt I was helping bring about change and doing something positive for the people in Afghanistan. I was happy with my life and career.
When the Taliban took control of Kabul in August 2021, my world was turned upside down. I feared for my safety, and I had to escape from Kabul. Eventually, I made it to Qatar where I waited for about a month. During this time, I didn't know where I would end up. Thanks to the diplomatic efforts of two Irish women, and the charity Ascend, I obtained a visa to move to Ireland, as part of a group of 20. In November 2021, I boarded a plane to Dublin.
My first impressions were that Ireland was very calm. I wondered where all the people were! It was so different to where I grew up. Kabul was a very big, busy and lively city with a population of 7 million. The streets were always bustling with people and traffic; shops were always open. My new home was near a small town in county Galway with forests and many green fields. I knew it would take time for me to get used to this new environment. I had never left Afghanistan before, so everyone and everywhere in Ireland was so foreign to me. I had also left behind my family and my childhood friends, I missed them and I was lonely but I was determined to change this.
I was committed to starting my life and being happy in Ireland. I took English lessons and I worked in various jobs all within few months of arriving in Ireland. All this time, I missed the career that I had left behind in Afghanistan. Because of the new laws implemented by the Taliban, Afghan women no longer receive a formal education. This makes me sad as education is so important and has played such an important role in my life. In Ireland, I wanted to pursue a career in science and education. But with my qualifications, it would be difficult to get the job that I wanted. I knew that I needed to upskill to achieve this.
I started investigating how I would access the Irish education system. During this time, I met Professor Afshin Samali. He began to advise me on the various ways that I could access the Irish education system. Together, we explored various possibilities, and decided that if I pursue a master's degree by research in the biomedical field, I would be in a stronger position to pursue my dream in Ireland. Completing a master's degree in science would complement and increase my skills in the sciences. I would be able to gain practical hands-on experience of working in a research laboratory as well as broaden my understanding of cancer.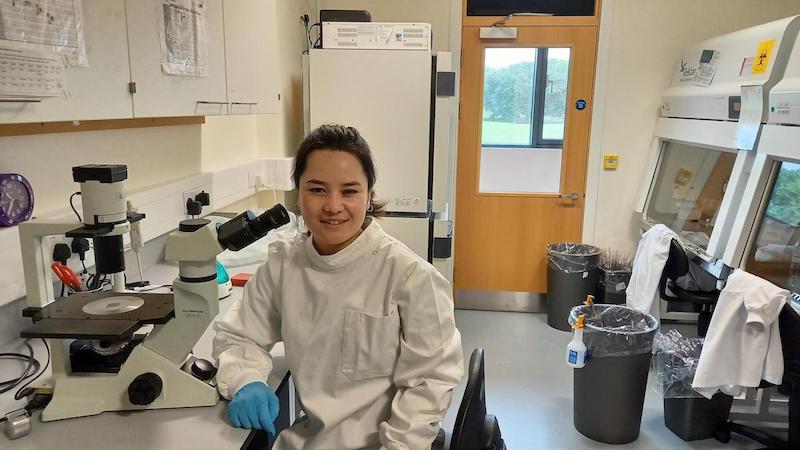 Zarghona Hassani in Prof. Afshin Samali's laboratory in the Apoptosis Research Centre in NUI Galway.
I was excited to be offered an internship by Precision Oncology Ireland and Apoptosis Research Centre at the NUI Galway to work with Prof. Samali. This meant I could experience working in a cancer biology research laboratory and learn some biomedical laboratory skills. It has been such a wonderful experience. During my internship, I have learned a lot. I have learned how to grow human cancer cells for experiments and to use many different types of equipment, all of which I had never seen before. Now I can culture cancer cells, I can count and plate cells from experiments, treat them with different anti-cancer drugs and determine outcome of drug treatment. I have also received training in laboratory health and safety, RNA isolation, reverse transcription, and PCR.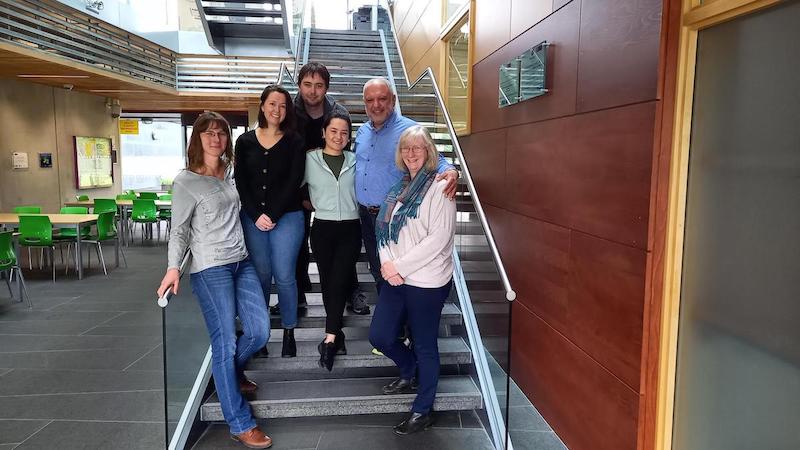 Zarghona (centre) with members of the lab during her internship
The internship was not easy because of the language. I knew general English and can easily have daily conversations. However, I didn't know scientific English so there has been a sharp learning curve. I feel like I have had to study three times as much as others. Despite this, I gave weekly presentations to the group on a topic that is relevant to the work I was doing. For example, a question from one week was 'does thapsigargin activate the unfolded protein response?' To answer this, I designed and executed an experiment and analysed the data. I used the results of the experiment to make a presentation and explained my findings to the group.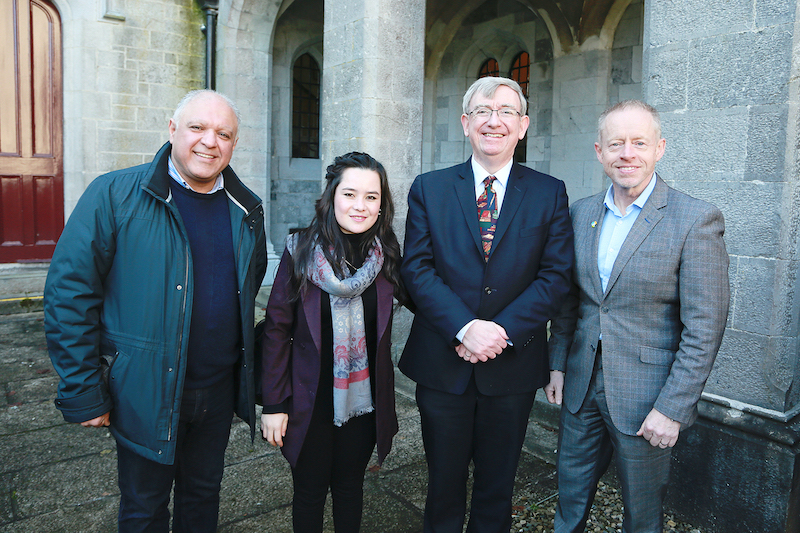 Afshin Samali, Zarghona Hassani, Ciarán Ó hÓgartaigh (NUI Galway, President), Ciaran Cannon TD.
In the laboratory, people are from different countries around the world. They always help each other and they are so kind. One interesting thing to me is that they are always ready to have fun, they celebrate the small things as well as big achievements. I like this. I have enjoyed each day. I have met new people and I have learned new things. I felt welcomed and part of the team! I plan to enrol in a master's degree by research in Biochemistry at NUI Galway and work under supervision of my mentor, Prof. Samali, to continue on cancer research. I have two immediate challenges ahead of me. One is that as a refugee I don't have all my documents from Afghanistan to complete normal application route for university entry. Second, is finding the resources to fund my studies is going to a major hurdle. I know there is a lot more for me to learn, I know there will be many challenges ahead that I have to overcome, but, I am excited to get started and with teamwork I can get through one day at a time.
--
Zarghona Hassani was awarded an internship by Precision Oncology Ireland and the Apoptosis Research Centre at NUI Galway to work with Prof. Afshin Samali. We are proud to welcome her as part of the POI team.
June 20th each year is World Refugee Day, which celebrates the strength and courage of people who have been forced to flee their home country to escape conflict or persecution. You can find out more about the UNHCR here.
Ascend, the charity that helped Zarghona to come to Ireland, aims to empower young women and girls through the sport of mountain climbing. Find out more here.