The potential of Precision Oncology
Medicine is personal, and physicians have always tried to put the patient first. More than 2,300 years ago Hippocrates, the 'Father of Clinical Medicine', said that "It is more important to know what sort of person has a disease than to know what sort of disease a person has." We know that everybody is different and reacts differently to diseases and drugs. Until recently however, it has been very difficult to get a detailed enough understanding of each individual to fulfil the aspiration of treating every patient individually. But now, for the first time in history, we have technologies that allow us to distinguish the molecular differences between humans and their conditions in health and disease. We can sequence genomes, but we can also map the expression of proteins and metabolites. In combination, these molecular profiles can provide us with an understanding of risk and resistance factors inherited with our genes, but also when and why potential risks become manifest during our life, and how we are affected by our environment, lifestyle, diet and therapies we may receive – information that is better reflected in our proteins and metabolites. Putting these data together is daunting. Written out the sequence of our genome is 9 kilometres long, and the proteome and metabolome are equally complex. Thus, we need computer models to integrate, analyse and interpret these data. Using these computer models we can generate personal molecular profiles for each patient, so that we can fully understand the disease a person has and treat this individual with the best possible therapies.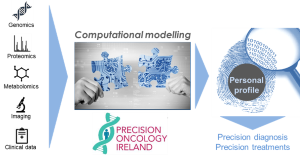 SBI has been pioneering the development of such computer models for the last decade, and within POI we aim to make them fit for clinical use. Reaching this goal would allow oncologists to apply predictive precision to the complexity of the human body, something that engineers have been successfully doing for many decades for technological developments, i.e. designing, testing and improving a car or airplane with computer models before it is built. With computer models that faithfully reflect a patient's cancer, oncologists in the future may be able to design, test and improve a therapy 'in silico', i.e. via a computer simulation, before giving it to the patient, making treatment safer, better and personalised. This vision is at the heart of POI. But while the vision is simple, its implementation is not – it requires a large interdisciplinary team. And that does not only mean bringing together scientists from different fields, but involving all stakeholders who are engaged in designing cancer diagnostics and therapies, who develop and apply them, and the patients who receive them. We need to integrate the pathways of discovery research, translational research and clinical application. And we need to do this by considering and listening to the ideas, aims and needs of all people sharing this road, including but not limited to scientists, clinicians, and patients. That is an integral mission of POI.
We are about to witness the dawn of a new era in oncology and in medicine in general. Medicine is leaving the realms of empirical and population science and is on the way to become a data informed, person-focussed science. We are becoming part of a revolution, yet not from the side lines but from the midst of it. Some might argue that this could be dangerous. Well, nothing that is new is without risk. For instance, using the steam engine for driving trains was fiercely opposed because of fears the high speed would kill the passengers. The 20 th century saw the development of high risk medical techniques, such as bone marrow and heart transplantation that are now routine and saving lives. A very recent example is immunotherapy, which after a highly publicised fatal clinical trial in 2006, rebounded within a few years to become a cornerstone of cancer therapy. We have readily accepted these very real risks in the good faith that they ultimately will serve a greater common good. That trust has fully paid off.

Now we face a new type of challenge. Personal medicine needs personal data. Developing personal molecular profiles and personalised computer models – how will individuals and society deal with that? The benefits are clear: better therapies, less side effects, better quality of life, and more lives saved. The dangers are less tangible, but there are safeguards. Molecular information can only effectively be used for the purpose we have collected it for, and that purpose and its transparency is
regulated by strict EU and national legislation. However, we recognize that the practical interpretation can sometimes be ambiguous. This is one of many reasons why POI works with all stakeholders so that we can plot a way forward that respects personal rights, promotes research and develops new cancer therapies that are badly needed. By 2020 cancer will have surpassed cardiovascular disease as the number one killer in Ireland, and every second Irish citizen will experience cancer in their lifetime. This future is bleak. Therefore, we have to gather all the tools, all the efforts and all the stakeholders we can to put a silver lining on the horizon.
POI's ambition is to transform this silver lining into a window of opportunity by bringing modern research and technologies straight to the patient. We firmly believe this will change the lives of cancer patients in Ireland. However, POI is not just a research project. It is also a societal project. We believe that the future of cancer research and treatment lies in joint enterprises between researchers, clinicians and patients, academic, philanthropic and commercial organisations. POI for the first time combines them all in one consortium. POI provides a forum where every stakeholder's
voice will be heard with the aim to radically change cancer diagnosis and treatment for patients in Ireland and worldwide.
Perspectives on setting up a Research Consortium before and during a global pandemic
I joined the Precision Oncology Ireland (POI) team at the beginning of December 2019 and immediately started helping set up the consortium in my role as Senior Research Administrator. POI consists of five Irish universities, six Irish cancer research charities, and nine companies aiming to develop new diagnostics and therapeutics for the personalised treatment of cancer. It is based out of Systems Biology Ireland at UCD, and the combined SFI, charity, and industrial funding commitment to POI will total €11.9 million over the next five years. The Consortium was officially launched on the 26th of November 2019, and since then, huge progress has been made to establish the programme. Given the complexity of POI as a unique programme which receives funding from SFI, industry partners and Irish charities you can imagine that the process of setting up the programme has not always been completely straightforward, but we are getting there. The POI operations team have been recruited, along with some members of the research team. We have negotiated the majority of our partner agreements to secure our funding. And importantly, we have engaged with academic researchers, charity and industry partners, the patient advocate community, and the public, to communicate what POI is all about.
Back in February, we raised awareness of the consortium through POI being profiled on the RTE1 'Nationwide' programme, which has an almost cult following across the country and is broadcast every weekday evening, reaching audiences in every corner of Ireland. POI Director Prof. Walter Kolch and Deputy Director Prof. Liam Gallagher were both interviewed and featured in the final broadcast programme. They spoke about the research that they and their teams do and shared the importance that precision oncology and cancer research have for patients and society.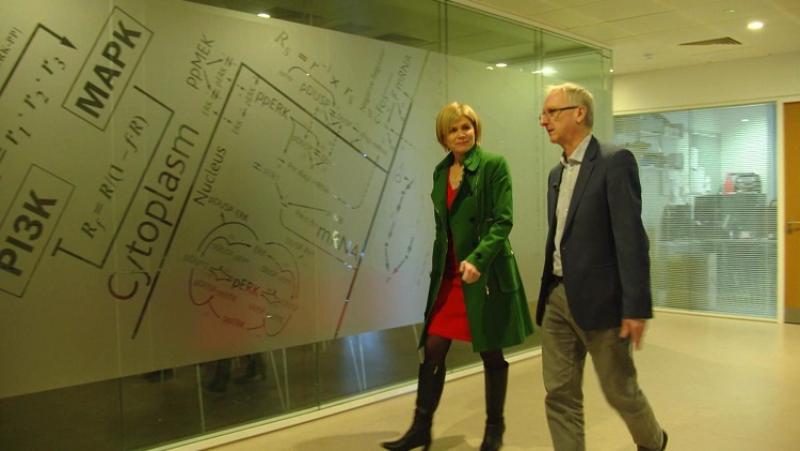 POI Director Prof. Walter Kolch walking through SBI for Nationwide segment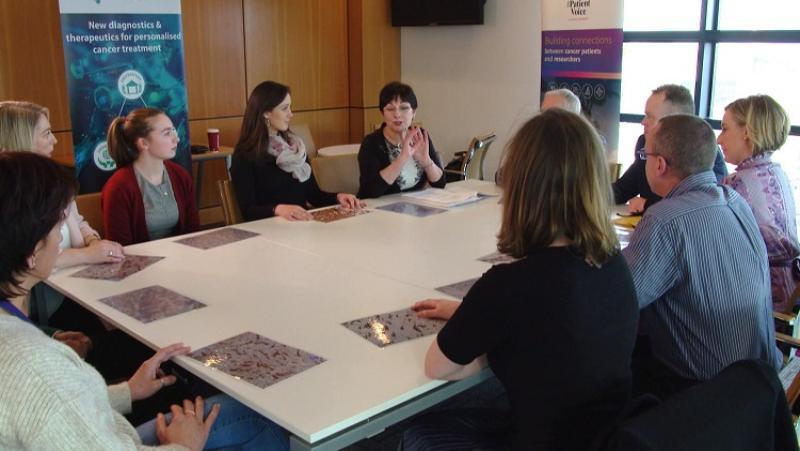 Photo from Nationwide segment featuring a patient involvement session in collaboration with the Patient Voice in Cancer Research

POI has also held the 'Choirs for Cancer' event on 4th February 2020, to mark World Cancer Day. I helped organize this event, which had over 700 attendees, 10 choirs and 300 singers was hosted by RTE presenters Miriam O'Callaghan and Marty Morrissey and brought together cancer patients, advocates, survivors, and family members to share the story of their cancer journey with the cancer research community. These stories were interspersed with inspirational songs by choirs from across the Ireland including choirs whose members were from cancer support centers or had a link to cancer. Patient advocates shared their personal cancer stories, and cancer researchers spoke of their motivation and progress towards finding new ways to prevent, diagnose and treat this devastating disease. A huge amount of planning and preparation was involved in coordinating all of the speakers and choirs. In the run up to the event I liaised with all the participating choirs who were travelling from all across Ireland to ensure they had all the information they required, helped with any logistical arrangements including parking (which was a bit of a nightmare as UCD isn't the easiest place to secure event parking) and answered any queries they had. On the day, all of our hard-work and preparation paid off and everything ran to plan with the exception of the Sing for Life Choir's bus breaking down an hour into their journey from Belfast to Dublin! We didn't know if they would make it on time to perform, but luckily, they eventually got the bus back on the road and arrived in UCD halfway through the event, just in time to give a beautiful rendition of the song 'Falling Slowly'. The event was a resounding success, with huge traction on social media (84,000 mentions of #choirsforcancer2020), and photo/video content featured on outlets including the Irish Times and the World Cancer Day highlights video. Furthermore, the event was extremely moving and heartfelt and despite the huge amount of work that went into organizing it, everyone who worked tirelessly in the background felt that the experience was definitely worth the effort and agreed that memories from the day will stay with them for years to come.
February turned out to be a very busy month for POI. We headed west to Galway to hold our first team meeting with the researchers, charity partners and industry partners from all over the country and even further afield. It was lovely to meet everyone there in person for the first time after weeks of preparations to ensure everything would run smoothly on the day. However, unfortunately as I am learning, sometimes no matter how much you prepare there are always things out of your control (like a projector that does not want to cooperate and causes a 20 minute delay to the start of the meeting!).
We also hosted a table at the Patient Voice in Cancer Research 'Dragon's Den' event in Galway on the 25th February 2020. This brought the POI management team members and those with a lived experience of cancer together, with the goal of co-designing a patient involvement plan for the POI programme, based on the insights and experiences of those around the table. On the following day, POI partnered with CÚRAM, the SFI Research Centre for Medical Devices at NUI Galway and Galway Film Centre, in this year's Science on Screen programme, which will commission a short scientific documentary focused on cancer research. Members of the POI management team, together with patient advocates and researchers, shared their insights with an audience of filmmakers, with the focus of the proposed documentary film being on precision oncology. The pitches put forward by filmmakers are currently being shortlisted, and hopefully the successful candidates will be able to shoot the footage in early 2021. That same day, I manned the POI booth at the Irish Association for Cancer Research (IACR) Annual Conference, and I really enjoyed engaging with the researchers, discussing their current work and providing them with information on POI.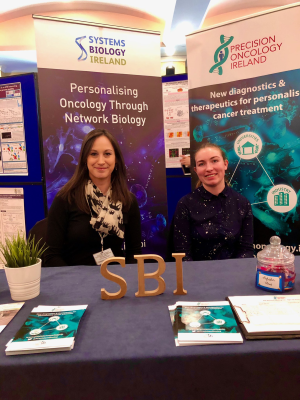 Manning the POI booth at the IACR with POI's COO Jessica Ralston

So, the going was good and then everything changed. On the 12th of March we all headed home and have remained there since. What is the new reality of continuing to set up the programme remotely? To be honest, things have been running surprisingly smoothly thanks to modern technology and the virtual office environment is working well for us. On the operations side, our work is getting done, grant applications have been submitted and our meetings are still going ahead via Zoom in the comfort and safety of our homes.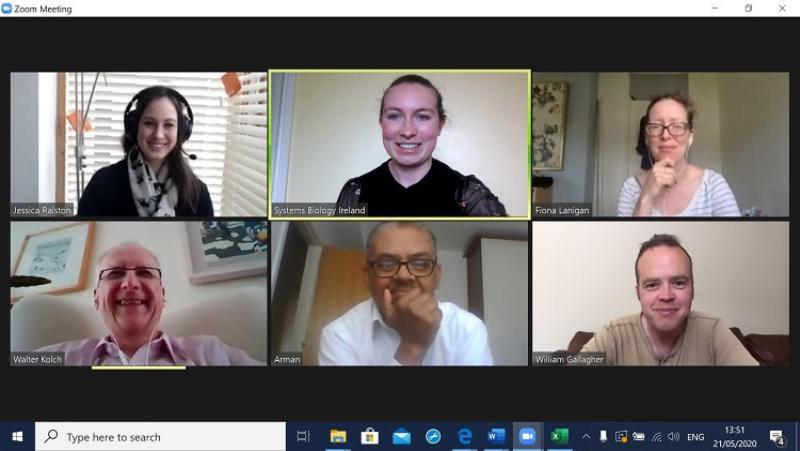 An insight into our virtual POI management meetings
The clear negatives are that wet lab-based work has ground to a halt and it is unclear when this may fully resume. Recruitment of new hires to several projects has also been delayed due to Covid19 and this could mean that projects might be running behind before they can even start. Significant milestones have been set out for this programme and these delays could of course impact on the timeline for achieving these. The ban on holding events means that we unfortunately cannot plan any networking or team-building activities for newly hired researchers to meet the POI operations team or other researchers involved with the programme. These events are vital for building relationships and creating a sense of community within the programme so we will need to explore other ways of achieving this remotely.
However, on the positive side, in the overall scheme of a five-year project, any delays at the start of the research projects should not cause too many issues and we will still have plenty of time to get the work done down the line.
Now we must adapt to the current situation and continue to plan ahead. However, it is hard to know what future planned events will look like if social-distancing rules must apply. This is especially true for patient and public engagement activities where some attendees may belong to high-risk groups. Perhaps events such as these will need to be put on hold until a COVID-19 vaccine is available. As we can no longer host seminars in person, we have been forced to think creatively and explore innovative ways to engage our audiences remotely. We are currently planning a virtual tour of our industry partner's labs and facilities, as well as a virtual seminar series. These are things that we probably would have never considered doing if it wasn't for the new social-distancing restrictions and one clear benefit to working in this way is that the events are accessible to a wider audience as people can join in from home. So, keep an eye out for the invites to these virtual events as they are sure to be excellent.
So luckily, we are able to continue working and making progress in establishing the programme and we are very thankful for this. If we have any personal regrets though it would have to be that we didn't take out shares in Zoom last year!
Promises of Tissue based imaging in Cancer research and Diagnostics
Transition to the Age of Digital Pathology
When a cancer patient first comes in contact with the clinician, a plethora of tasks sparks in their mind. These include proper diagnosis, selecting the best treatment option, monitoring treatment response, and lastly following up for recurrence of disease. To establish a diagnosis, biopsy tissue materials are often examined under the microscope by a histopathologist. In traditional practice, histopathologists examine glass slides of biopsy tissue under the microscope and characterise specific features relevant to the disease. Over recent years, cancer diagnosis has gone through a significant change due to a substantial improvement in computational power. Radical development of novel high-throughput imaging tools and image analysis algorithms has facilitated the gradual transition of manual histopathological analysis of traditional microscopy to digital pathology. Digital pathology involves digitising histopathological tissue slides into high-resolution images by scanning the slides with whole-slide scanners, and afterwards analysing the digital images with computer-aided image analysis software. After the slides are digitised to computer images, they can be viewed by a pathologist on a computer monitor, where the image can be magnified and navigated spatially in much the same way as standard microscopy. These scanned images represent the accurate depiction of the tissue slide, and in most cases, offer much more ease and flexibility in detecting complex morphological features of diagnostic or prognostic value. Image analysis software is then used to analyse those features of interest, and extract quantitative data from them that are generally much more accurate and reproducible. Figure 1 shows different steps in manual and digital pathology workflow.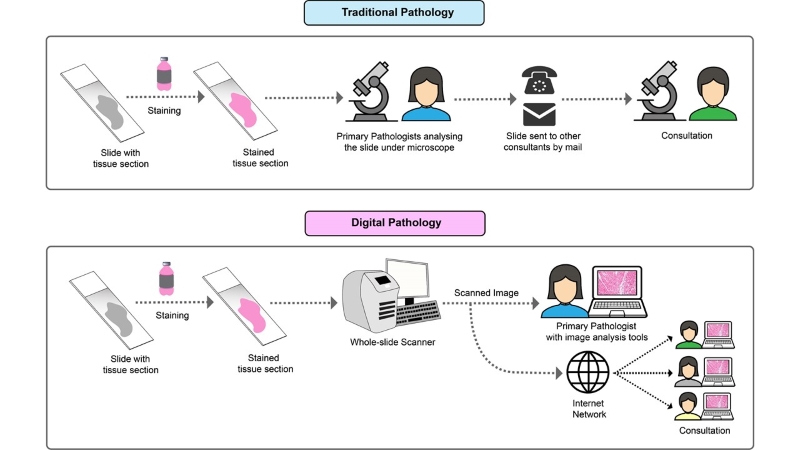 Figure 1: Comparison between the workflow of traditional and digital pathology

For visual assessment of the otherwise transparent tissue samples, the tissue sections go through staining procedures. There are various staining methods used for staining histopathological slides. For example hematoxylin and eosin (H&E) staining, which is used as the routine staining for histological slides, and provides a general overview of tissue morphology. But when pathologists or researchers need to look into more specified features such as presence or absence of specific molecular biomarker (protein/RNA) in cells, other specialised staining techniques like Immunohistochemistry (IHC) and In Situ Hybridization (ISH) are used. IHC uses targeted antibodies to detect a specific protein antigen and ISH uses complementary DNA or RNA strand to localise a particular nucleic acid sequence in the tissue. These antibodies and nucleic acids are normally linked with enzymes or fluorescent dyes, which makes the target visible under the microscope upon binding. Examples of scanned images of some tissue sections with IHC staining can be seen in the figure.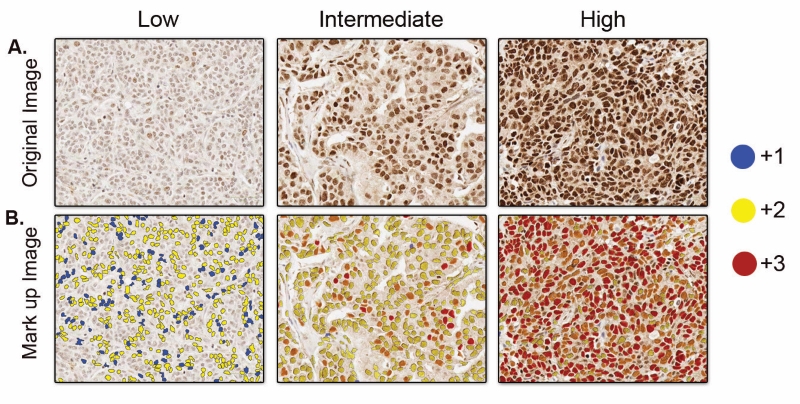 Figure 2: A. Scanned images of IHC staining on different tissue sections showing different levels of expression of a specific biomarker. More intensity of the staining indicates higher levels of the biomarker expression. B. Mark-up image with stained cells detected and annotated by an automated image analysis tool. Different colors of annotation indicates different threshold of staining intensity, blue (+1) indicates weak staining, yellow (+2) indicates moderate staining, and red (+3) indicates strong staining.

Based on these molecules linked with antibodies, there are two different types of IHC techniques: Chromogenic and Fluorescent. Chromogenic IHC depends on the chemical reaction triggered by the linked enzyme molecule and for fluorescent IHC, it's the linked fluorescent dye. Traditionally, chromogenic IHC detects a single antigen in a slide. This can be a major limitation as cancer is a very complex molecular disease, and to diagnose or predict a proper treatment outcome, multiple molecular events or biomarkers need to be assessed. To solve this issue, Multiplexed Immunofluorescence (mIF) platforms have emerged as a potent tool as they allows simultaneous detection of multiple protein biomarkers on a single tissue section while preserving tumour material. It allows the opportunity to study different components of the tumour microenvironment, providing a better understanding of the cross-talk between the host and the tumour. While not yet used routinely in the clinic, this technique has the potential to dramatically improve diagnosis. Figure 3 graphically represents how multiple targets can be visualised simultaneously in the same tissue with multiplexing.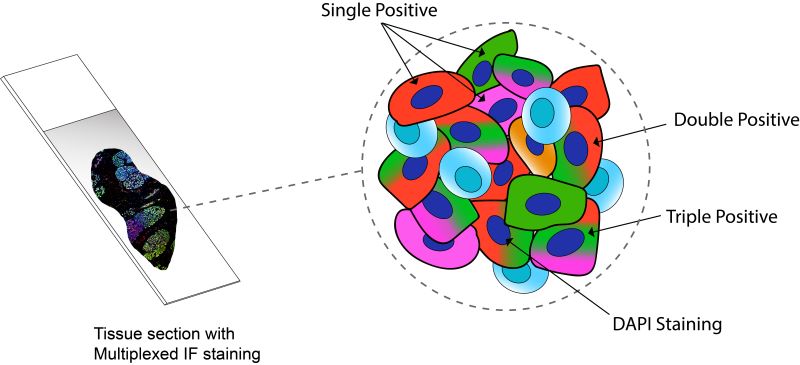 Figure 3: Tissue section with simultaneous staining of four different markers by Multiplexed Immunofluorescence. The schematic is a simplified representation of a magnified portion of the tissue showing cells expressing varied combinations of the three markers and a special fluorescence dye to light up all nuclei in the tissue (DAPI).

Deciphering Tumour Immune Contexture with Multiplex techniques
In recent years, there has been huge interest in the scientific community on mapping the immune architecture of tumours, and tissue-based multiplexed techniques have become one of the most desired tools for executing that. A tumour microenvironment hosts a highly diverse network of immune cell populations which collectively plays a vital role in tumour progression. A lot of different Immune therapies have been developed over the years which attempt to stimulate these immune cells to trigger a desired anti-tumour response, contrary to conventional cancer therapies that target tumour cells directly. Lately a good number of those therapies have also found major clinical success, although in a lot of cases it is still not properly understood why many patients do not respond to these treatments and/or experience immune-related complications. Recent research data suggest that tumour's response to these immunotherapeutic approaches depends on the presence of specific immune cells in the tumour. These Immune cells surrounding tumour cells commonly referred to as tumour infiltrating lymphocytes (TIL) reflect the host's immune response against the tumour cells. Numerous research studies have established that the composition of these TILs has significant deterministic value in disease prognosis for various cancer types like Breast cancer, Lung cancer, and colorectal cancer. Along with the presence of different immune cells in the tumour, there are other distinct features of TILs that have potential clinical significance. That is why characterisation or profiling of immune contexture in tumours requires detailed information about the tumour microenvironment, density of different immune cell populations, and their spatial arrangement. Here, spatial arrangement refers to the co-localisation of different immune cells in relation to the tumour cells and among themselves (Figure 4). In a recent study with non–small cell lung cancer, all these spatial features of TILs are found to have predictive value in the likelihood of the recurrence of cancer after chemotherapy. As proper characterisation of TILs demands multiple spatial features to be assessed together, multiplexed staining platforms have emerged as an ideal tool for immune profiling in cancer research. In contrast to other tissue-based imaging tools, multiplexed platforms are the only platforms that allow studying the spatial distribution of multiple immune and non-immune biomarkers and the interactions among them.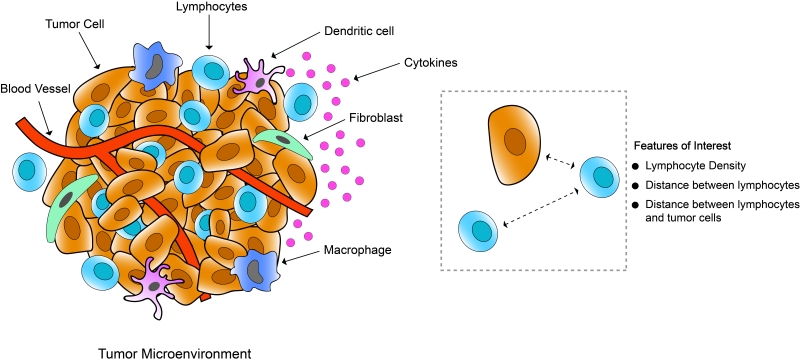 Figure 4: Schematic representation of tumour microenvironment showing tumour infiltrating lymphocytes, epithelial cells, fibroblasts, blood vessels, other immune cells (macrophages, dendritic cells).

Incorporation of Artificial Intelligence in Digital Pathology
Along with the use of high-end imaging tools in clinical and research practice, the need for increasing translational outcome of these tissue-based biomarkers have continued the innovation of new and superior image analysis approaches. Over time in tissue-based biomarker analysis, more and more complex and sub visual features are being explored in clinical practice and academic research. Moreover, the enormous amount of data being generated from these advanced imaging tools has made management of diagnostic workflows increasingly tough. That is why there's an increasing need to develop tools for pathologists to help them in achieving significant growth in clinical outcome. Artificial Intelligence (AI) comes right into play here. In simple terms, AI is machine-based approaches that emulate human intelligence; its purpose is to try making predictions like an intelligent human does. Integration of AI in image analysis of tissue-based biomarkers offers far more efficient and robust extraction of clinically relevant data from a large patient population and reduces human error to a large extent. It makes a subjective assessment of images quantifiable and extremely reproducible. In recent times, AI approaches for image analysis are shifting towards Deep Learning, which is based on artificial neural networks that imitate the learning process of the human brain. The way deep learning works in pathology is that pathologists feed the network with annotations of a feature in an image (e.g. – blood vessel), and then the neural network learns from those annotations like a human does and later tries to detect those features by itself in the tissue specimen. The more input data it gets, the more precise it gets at identifying the feature of interest and found to match or in many cases perform even better than humans.
There are still quite some challenges to integrating AI in regular clinical diagnostics exclusively. Nevertheless, the potential is boundless. We are in an age where treatment strategies are more and more being tailored to individual patients. Since advanced tissue-based imaging technologies offer ways of acquiring and assessing patient-specific clinical data with far more accuracy and precision than usual, these technologies are now growing immensely in popularity and demand in histology labs, hospitals, universities, and pharmaceutical companies worldwide. Many of them are leaning towards digitising their entire workflow. Over the next ten years, progress in this field will undoubtedly transform the field of oncology and related medical diagnostics. Ultimately, given the phenomenal rise of machine learning and AI, one can only imagine the sensational advancements that will be uncovered in the field of medicine in the next decade.
Author: Chowdhury Arif Jahangir, POI PhD student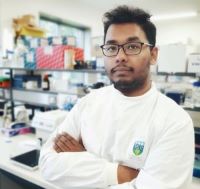 After completing a Master's degree in Molecular Biotechnology under a joint program by Karolinska Insititute and University of Skövde (Sweden), Arif received a research assistantship at Karolinska institute. There Arif worked on investigating the molecular mechanism behind antioxidant induced lung cancer metastasis. After completing the project, Arif joined the Cancer Biology and Therapeutics Lab at UCD as a research assistant and worked under the OPTi-PREDICT project funded by SFI. Arif received his 1st class undergraduate degree (BSc) in Biotechnology from the University of Rajshahi (Bangladesh).
In May 2020, Arif started his Ph.D. with POI, under the supervision of Professor William Gallagher. His project aims to explore the interplay between master transcriptional regulators and immune cells within the tumor microenvironment of breast cancer.
Doing a PhD during a global pandemic
The first mention of the virus was during lunchtime in the lab on a dull January afternoon. This was followed by a few concerned nods and a light debate before someone mentioned Netflix's new show and the conversation moved along. Little did we know in a mere few months, a global pandemic would be announced and we would be shutting up shop. At this stage I was only six months into my PhD.
Rumours of lockdown started to circulate on a Wednesday morning amongst the research teams. Later that day, an official email was circulated confirming the closure of the lab until further notice. This was met with a wave of anxiety from my lab group. How would our work get done? What if one of us got seriously sick? A lab meeting was subsequently called and following some encouraging words from our supervisor, we hugged goodbye and parted ways not knowing when we would meet again. As I walked home my mind wandered to our charity partner NBCRI and how vital funds would be raised during this time. I also thought of those with BreastCheck appointments or those receiving treatment and how these people would be accommodated.
My mum, a natural worrier, wanted my sisters and I home once a nationwide lockdown was announced. I am part of a large family of six, the eldest of three sisters, mum, dad and of course our two dogs. It had been a good few years since we had all lived under the same roof so as you can imagine, adjusting to this was a challenge. There were arguments over the internet, noise during video calls and even who ate the last piece of cake put aside for someone else.
While initially I found it hard to be productive during such an uncertain time, developing a routine over the first few weeks helped me adapt to the change in my working day. Our weekly research meeting and journal club recommenced in a new virtual format bringing with it some normality. While I missed the physicality of lab work, this new way of working was a welcomed change. I began to do more in-depth reading around my project and worked on my scientific writing- even beginning a draft of my thesis introduction! I found I began to look forward to our group meetings on a Monday but mostly just to see that everyone was doing okay and to talk to someone other than my family! As the weeks went by and restrictions were slowly lifted, I began to wonder if we might actually get back to Galway. This was met with enthusiasm from our supervisor who mentioned a return to lab plan was in the works. Our research meetings became more intense but exciting as we all prepared plans and conducted order lists in preparation for our return.
On the 29th of June, following countless meetings, induction videos and forms, I finally stepped back into the lab after four months of working from home. The "new normal" took some time to get used to with most of us finding the first few weeks tough. Masks became mandatory making it hot and claustrophobic during work while glasses wearers had an additional challenge to face- fog! The lab days were short (due to rotating shifts) and lonely as we were capped at 25% capacity meaning little to no interaction. I think I found the lack of socialising like grabbing a coffee with a friend to rant or enjoying lunch together the hardest part to get used to.
As the weeks progressed, we were rewarded with longer working hours and increased capacity. This made the days easier, as we were able to meet (Two meters apart of course) and chat with each other. Finally, almost six months to the day since the closure of our lab, we had our first in person, socially distanced research meeting. This in itself brought a real sense of normality to my working day as we shared results and gave feedback to each other.
While there are of course still restrictions in place, I feel hopeful that my lab work will continue to be productive as the months go on. Doing my PhD during a global pandemic has been challenging but has given me a fresh perspective on what is important in life. I am grateful for my fantastic research group and supervisor who have been so helpful and understanding during these strange times. Despite the many arguments, I've learnt to appreciate my family more, as well as little things like a walk on the beach and brunch with a friends- something taken away from us all.
It is hard to believe that it has been almost a year since the launch of POI and the beginning of my PhD journey. While a difficult year, I look forward to the work to come, and in particular to being part of a large network of individuals striving to make a difference.
Author: Elan McCarthy, POI PhD student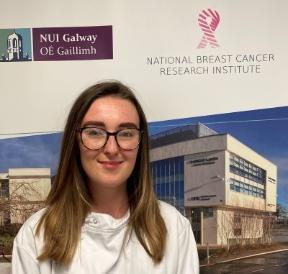 In October 2019, Elan McCarthy started her PhD with POI, under the supervision of Dr Róisín Dwyer at NUIG. Previous work by this group demonstrated the potential of EVs for treatment of advanced breast cancer. Elan's project is focused on understanding how these vesicles interact with the immune system, and will be critical to successful translation of this approach to the clinical setting.