The potential of Precision Oncology
Prof. Walter Kolch, Director of Precision Oncology Ireland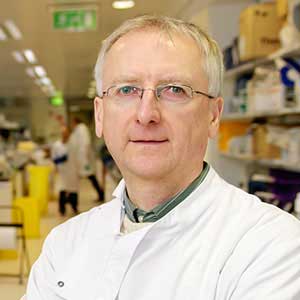 Medicine is personal, and physicians have always tried to put the patient first. More than 2,300 years ago Hippocrates, the 'Father of Clinical Medicine', said that "It is more important to know what sort of person has a disease than to know what sort of disease a person has." We know that everybody is different and reacts differently to diseases and drugs. Until recently however, it has been very difficult to get a detailed enough understanding of each individual to fulfil the aspiration of treating every patient individually. But now, for the first time in history, we have technologies that allow us to distinguish the molecular differences between humans and their conditions in health and disease. We can sequence genomes, but we can also map the expression of proteins and metabolites. In combination, these molecular profiles can provide us with an understanding of risk and resistance factors inherited with our genes, but also when and why potential risks become manifest during our life, and how we are affected by our environment, lifestyle, diet and therapies we may receive – information that is better reflected in our proteins and metabolites. Putting these data together is daunting. Written out the sequence of our genome is 9 kilometres long, and the proteome and metabolome are equally complex. Thus, we need computer models to integrate, analyse and interpret these data. Using these computer models we can generate personal molecular profiles for each patient, so that we can fully understand the disease a person has and treat this individual with the best possible therapies
SBI has been pioneering the development of such computer models for the last decade, and within POI we aim to make them fit for clinical use. Reaching this goal would allow oncologists to apply predictive precision to the complexity of the human body, something that engineers have been successfully doing for many decades for technological developments, i.e. designing, testing and improving a car or airplane with computer models before it is built. With computer models that faithfully reflect a patient's cancer, oncologists in the future may be able to design, test and improve a therapy 'in silico', i.e. via a computer simulation, before giving it to the patient, making treatment safer, better and personalised. This vision is at the heart of POI. But while the vision is simple, its implementation is not – it requires a large interdisciplinary team. And that does not only mean bringing together scientists from different fields, but involving all stakeholders who are engaged in designing cancer diagnostics and therapies, who develop and apply them, and the patients who receive them. We need to integrate the pathways of discovery research, translational research and clinical application. And we need to do this by considering and listening to the ideas, aims and needs of all people sharing this road, including but not limited to scientists, clinicians, and patients. That is an integral mission of POI.
We are about to witness the dawn of a new era in oncology and in medicine in general. Medicine is leaving the realms of empirical and population science and is on the way to become a data informed, person-focussed science. We are becoming part of a revolution, yet not from the side lines but from the midst of it. Some might argue that this could be dangerous. Well, nothing that is new is without risk. For instance, using the steam engine for driving trains was fiercely opposed because of fears the high speed would kill the passengers. The 20th century saw the development of high risk medical techniques, such as bone marrow and heart transplantation that are now routine and saving lives. A very recent example is immunotherapy, which after a highly publicised fatal clinical trial in 2006, rebounded within a few years to become a cornerstone of cancer therapy. We have readily accepted these very real risks in the good faith that they ultimately will serve a greater common good. That trust has fully paid off.
Now we face a new type of challenge. Personal medicine needs personal data. Developing personal molecular profiles and personalised computer models – how will individuals and society deal with that? The benefits are clear: better therapies, less side effects, better quality of life, and more lives saved. The dangers are less tangible, but there are safeguards. Molecular information can only effectively be used for the purpose we have collected it for, and that purpose and its transparency is regulated by strict EU and national legislation. However, we recognize that the practical interpretation can sometimes be ambiguous. This is one of many reasons why POI works with all stakeholders so that we can plot a way forward that respects personal rights, promotes research and develops new cancer therapies that are badly needed. By 2020 cancer will have surpassed cardiovascular disease as the number one killer in Ireland, and every second Irish citizen will experience cancer in their lifetime. This future is bleak. Therefore, we have to gather all the tools, all the efforts and all the stakeholders we can to put a silver lining on the horizon.
POI's ambition is to transform this silver lining into a window of opportunity by bringing modern research and technologies straight to the patient. We firmly believe this will change the lives of cancer patients in Ireland. However, POI is not just a research project. It is also a societal project. We believe that the future of cancer research and treatment lies in joint enterprises between researchers, clinicians and patients, academic, philanthropic and commercial organisations. POI for the first time combines them all in one consortium. POI provides a forum where every stakeholder's voice will be heard with the aim to radically change cancer diagnosis and treatment for patients in Ireland and worldwide.